Big Bob Gibson Bar-B-Que, in upstate Decatur, Alabama, has been a popular local hangout since 1925, famous for its innovative barbecue sauce for smoked chicken.
This is not what everyone thinks of when they think of barbecue sauce. It is white, first of all. And it is not sweet. Not everyone likes it, and it doesn't work well on pork or beef. But it's very nice on chicken, an American classic, and worth a try if you love barbecue. If you don't like it on chicken, it's just fine on coleslaw. Below is the recipe. Click here to read more about Big Bob's and its sauces.
Alabama White BBQ Sauce Recipe
This is one of my favorite white sauce recipes.
Course. Lunch. Dinner. Entree.
Cuisine. American.
Makes. Approximately 1 3/4 cups of sauce, enough for 2 large chickens or 3 Cornish game hens, which serves 4 to 6 people
Takes. 10 minutes for the sauce, about 45 minutes to cook the meat
Ingredients
3/4 cup mayonnaise
1/3 cup apple cider vinegar
1/4 cup lemon juice
1/4 cup apple juice
1 tablespoon powdered garlic
1 tablespoon prepared horseradish from a jar (either in vinegar or creamy)
1 tablespoon coarsely ground black pepper
1 teaspoon mustard powder
1/4 teaspoon Morton's coarse kosher salt (read more about the science of salt here)
1/2 teaspoon finely ground cayenne pepper
2 whole chickens, approximately 4 pounds each
Video:
Chicken with Alabama White Sauce
The video shows how to make smoked chicken with Alabama White Sauce using the Slow 'n' Sear.
Method
1) Whisk together all the ingredients in a large bowl and refrigerate in a jar for at least 2 hours, if possible, to allow the flavors to meld.
2) Lilly butterflies his chickens, which makes sense in a high production environment, but I prefer to quarter them so I can make sure no part is overcooked since breasts and thighs cook at a different rate. I recommend you cut the bird into quarters: Two drumstick and thigh combos, two breasts, and remove the wings from the breasts. Sprinkle liberally with salt and pepper on both sides
3) Crank up your smoker or prepare the grill for 2-zone indirect cooking. Shoot for 325°F in the indirect side. Place the chicken skin side up on the indirect side of the grill. Put a handful of wood chips, chunks, or pellets on the heat source. Use a foil packet with wood on a gas grill and on a charcoal grill put the wood right on the coals (no need to soak the wood). Just a handful of wood. Don't overdo it. Nothing will ruin chicken faster than too much smoke.
4) Check the temp of each piece independently because they will cook at different rates. Place your probe in the thickest part of each chunk but don't touch the bones. The wings will finish much faster than the other parts so put them on late and be prepared to remove them early. When all parts hit about 155°F, flip the bird and put the skin face down on the hot side. When they reach 165°F, paint them generously on all sides with the sauce (at Big Bob's they dunk the birds in a vat of sauce). Serve.
Nutrition Facts
0 servings per container
Calories per serving

705

% Daily Value*
Total Fat 51 g
78 %
Saturated Fat 14 g
70 %
Trans Fat 0 g
Cholesterol 232 mg
77 %
Sodium 738 mg
31 %
Total Carbohydrate 1 g
0 %
Dietary Fiber 0 g
1 %
Total Sugars 0 g
Includes - Added Sugars
Protein 57 g
115 %
| | |
| --- | --- |
| Vitamin D 1 µg | 4 % |
| Calcium 40 mg | 4 % |
| Iron 3 mg | 16 % |
| Potassium 599 mg | 13 % |
*Percent Daily Values are based on a 2,000 calorie diet.

"Well, Meathead, it's all there. You've got the right ingredients. Some of the proportions are a bit different, but they're close. In fact, I might have to try your version."Chris Lilly, Big Bob Gibson Bar-B-Que
Published On:
08/05/2012
Last Modified:
05/26/2020
In the past decade the Big Bob Gibson Bar-B-Que, has achieved national fame on the coat tails of the acclaim slathered on Chef Chris Lilly and his Big Bob Gibson Bar-B-Que competition team. Big Bob's now has two locations in Decatur, and the original is now destination dining.
That's Chris, below, in the red shirt, with his father-in-law, Don McLemore, owner of Big Bob Gibson's and the son-in-law of Big Bob himself. The photo of the man in the green shirt dipping butterflied chicken into white sauce is Ken Hess, a former team member and pitmaster at Big Bob's.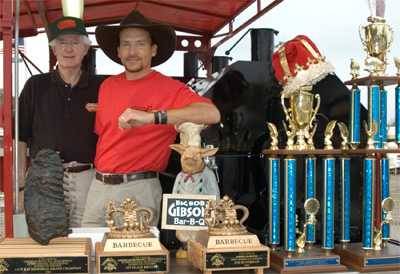 Their BBQ team has won practically every major competition on the circuit. Lilly can be seen doing TV commercials for Kingsford charcoal, and he has been featured on the Today Show, USA Today, in the Wall Street Journal, Martha Stewart Living and numerous other publications. You can even sit at the foot of the master and learn how to make championship barbecue by watching his DVD series.
Big Bob's red sauce has been named "Best on the Planet" at the American Royal Open in Kansas City, but their signature Alabama white BBQ sauce for chicken is their most famous because it is unique, although it now has several imitators.
A few years after I wrote this recipe, Lilly published a damn fine cookbook, and there is a white sauce recipe in it. But he is coy. He says "There is now a large number of 'authentic' versions of Big Bob's original secret recipe and cooking method - all different from one another. This is one of my favorites."
You can bet I immediately made the recipe in his book. Then I cut a chicken cut in half. Half got my recipe half got his book's recipe, and damned if his wasn't better. So I went back to the drawing board and blended the two together. I did another tasting, and damned if the new version wasn't better than both the parents. So I revised my recipe. The new one is pictured above, and the recipe is below.