The Green Chile Cheeseburger is one of the few truly authentic regional styles of burger in the nation. Here's the salsa necessary to get it done right!
It seems as if every bar and burger joint in "The Land of Enchantment" has a green chile salsa with which they adorn their burgers, fries, chili, chips, beans, soups, stews, chiles rellenos, enchiladas, and whatever else is in the kitchen.
The architecture is simple: A hamburger is topped with a serious dollop of a green chile salsa and covered with a slice of melted cheese to hold it in place. Lettuce, tomato, pickles, and onion are common but optional.
The salsa is surprisingly subdued when placed on the bun with juicy meat, cheese, and other condiments. Even if it tastes too hot out of the jar, you will be surprised how mild it is in situ.
To make the salsa, some restaurants merely soften some green chiles on the griddle and lay them on the burger, some buy a pre-mixed salsa in jugs, but the best make it from scratch. Most recipes are fairly simple, but some folks get cheffy with the addition of sherry vinegar and other goodies. All are based on the long slender (5 to 10″ long) pods grown near the town of Hatch in the fertile Hatch Valley.
Fortunately while it used to be extremely difficult to find hatch chiles outside of New Mexico, many groceries and specialty produce stores across the country now carry them when in season. Alternatively, they can be ordered fresh in late summer from a number of farms via the internet. In cooler months they can be ordered fresh frozen or fire-roasted and then frozen. Alas, it is hard to get them in quantities less than 5 pounds. So my recipe uses a blend of chiles that are easier to find, especially in Mexican groceries across the nation, Anaheims, anchos, and jalapeños or serranos. I fully expect to be expletived for this transgression, but the results taste pretty good and the recipe can be made anywhere.
Playing the bass fiddle, Anaheim chiles from California. Anaheims are 5 to 10″ long pods, pale green, and relatively mild, perhaps 1,000-3,000 Scoville Heat Units (SHU). They are similar to the popular New Mexico #20 variety used as a base in a lot of the green chile cheeseburger salsas and, in fact, they may be cousins. To make it more complex, for rhythm guitar, I mix in poblano peppers, which are dark green, richer and fruitier in flavor, but not any hotter. For a little heat, on lead guitar, I add jalapenos (5,000 Scovilles) or for a bigger bite I use serranos (up to 25,000 Scovilles).
The results are pretty close to the real thing. It was inspired by the toppings made by Bobby Olguin at the legendary Manny's Buckhorn Tavern in San Antonio, NM, established in 1943, Owl Bar & Café, a short walk from Manny's in San Antonio, and my fave, Santa Fe Bite in Santa Fe owned by John and Bonnie Eckre (that's Bonnie below).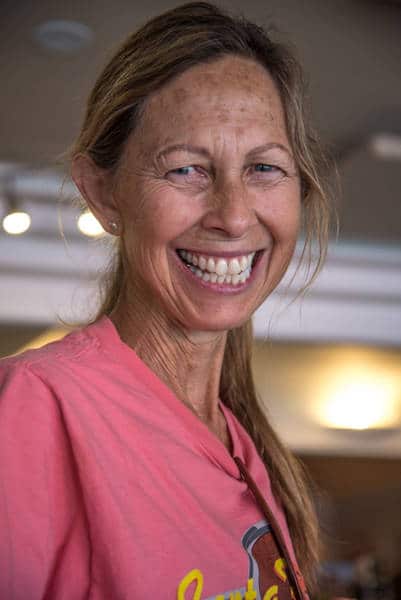 Once your salsa is ready, fire up a burger following the instructions in my article The Science of Burgers. I recommend a 6 ounce burger so the sauce is not lost among the other flavors.
About Hatch Chiles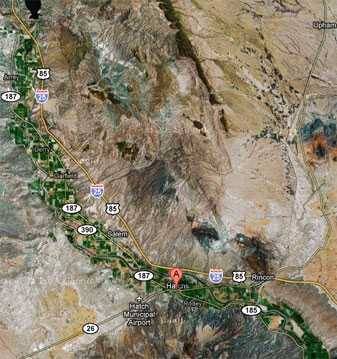 Fabian Garcia of the NMSU Agricultural Experiment Station is credited with kick starting the New Mexican chile industry, now the nation's largest. In 1894 he developed the New Mexican Chile by crossing Chile Pasilla and Chile Colorado.
There are now scores of varieties grown in New Mexico, many transplanted from elsewhere, and many created locally by cross breeding. The largest growing area is the crescent shaped Hatch Valley surrounding the town of Hatch ("A" on the map).
Several Hatch varieties are used to make the famous green chile cheesburger salsa, and many are blends of different peppers. These are among the most popular. If you can't find them, Anaheims are similar and a good substitute.
New Mexico #20 or New Mexico 6-4. These popular varieties have little or no heat, 1,000 to 1,500 Scoville units.
Big Jim or Joe E. Parker. Medium heat, 1,500 to 3,000 Scovilles.
Sandia. Hot, 5,000 to 7,000 Scovilles.
Elevate your cheese burger game with a serious dose of this smoky, fire roasted hatch chile salsa.
Serve with: your favorite burger.
---
---
Makes:
---
Takes:
---
Ingredients
3

green Hatch New Mexico #20, or Hatch New Mexico 6-4 peppers, or Anaheim peppers

1

green jalapeño pepper

1

green poblano pepper

1

tomatillo

1

medium onion, peeled, and sliced in half

2

tablespoons

of olive oil

2

large garlic cloves

2

tablespoons

cilantro leaves

1/2

teaspoon

kosher salt

2

pinches ground black pepper

1

tablespoon

lime juice
Notes:
Want more heat? Add another jalapeño, or substitute 2 serranos for the jalapeño, or add a few splashes of green hot sauce. But taste it first.
About the lime juice. You can substitute lemon juice or cider vinegar, but I prefer lime juice for its brightness.
About the salt. Remember, Morton coarse kosher salt is half the concentration of table salt so if you use table salt, use half as much. Click here to read more about salt and how it works.
Want more flavor? Throw some wood chips onto the coals or into an aluminum pan resting on top of your gas burner when you are grilling the peppers, tomatillo, and onion.
Metric conversion:
These recipes were created in US Customary measurements and the conversion to metric is being done by calculations. They should be accurate, but it is possible there could be an error. If you find one, please let us know in the comments at the bottom of the page
Method
Prep. Split the peppers in half lengthwise, cut off the stems, and remove the seeds. Leave in the veins because that's where the heat lives.

Fire up. Prepare a grill for high heat cooking.

Cook. Place the chiles on the grill over medium high or high direct heat, skin side down until the skin blackens and blisters, about 5 minutes. If you're working indoors, you can put them under the broiler skin side up or if you have a gas stove, hold them over an open flame with tongs (and an oven mitt). When the skin is black, put the peppers in a bowl and cover them with a dinner plate so they will steam. You can also put them in a paper bag and crumple the top. The steam will help loosen the skin. After about 5 minutes, open the bowl or bag, and when the peppers are cool enough to handle, slip into rubber gloves and peel off the skins. If a little char remains, don't sweat it. If you work bare handed, wash thoroughly with soap and avoid touching any moist part of your body, or your lover's. You can skip the process of skinning the peppers, but if you do it is especially important to blend them well in step 3 to break down the skins.

While the peppers are grilling, put the onions on the grill face down until they have nice grill marks. Roll over and grill until the round side is charred. Discard the burned layer. While the onions are grilling, cut the tomatillo in half and roll around on the grill until soft, but don't let it burn.

Coarsely chop the peppers, onions, and tomatillo. Chop the garlic fine or smush it in a garlic press and keep the separate from the other ingredients. Warm the oil over medium high heat in a frying pan, add the garlic and cook for about 2 minutes, just enough to soften it. Now peeled peppers, onions, tomatillos, salt, and pepper. Be careful not to lean over the pan. That's pepper spray, man.

Add 1/4 cup (60 mL) of water and cook until it is mostly evaporated and the salsa is getting thick.

Dump the whole thing into a blender, add the lime juice and cilantro, and pulse until it is a pulp, but not quite smooth. Taste and adjust the salt, pepper, cilantro, and juice to your preference. If you want it hotter, a few splashes of green hot sauce will do the job. You can put this in a clean jar and keep it in the fridge for up to 2 weeks.

Serve. Place the hatch chile salsa in a bowl and serve with chips or, even better, top your favorite cheeseburger for an authentic hatch chile cheeseburger experience.
---