I know the kids love the sweet potatoes with gooey marshmallows and the casserole with brown sugar and ersatz maple syrup. But this recipe is sweet enough for kids and savory enough for adults. Grilling them produces crisp shards of deliciousness that are dulcet, but not so unctuous they should be dessert.
The moment I first tasted sweet potato French fries, I was addicted. Couldn't get enough of them. So I immediately went home and tried to make them on my grill. What I came up with are not as crispy all over as deep fried, but the edges are nice and crunchy, and they have great grilled flavor, better caramelization of sugars, and much less fat and calories. And they just flat out look cool.
Spotlight on our favorite products
The Undisputed Champion!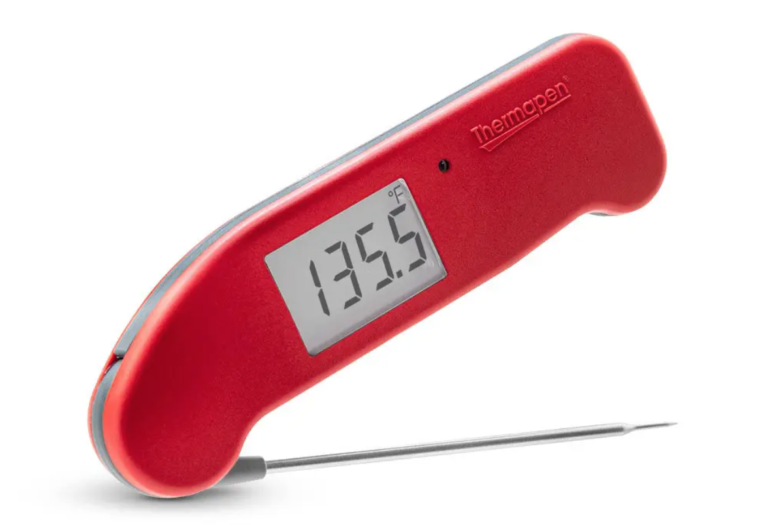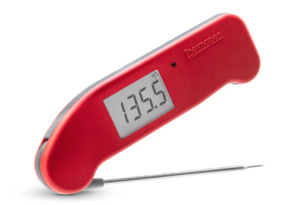 ThermoWorks' Thermapen ONE provides an accurate reading in one second or less. The ONE also includes features that are common on high-end instruments: automatic backlight, rotating display, and water resistant seals. Don't accept cheap substitutes.
Click here to read our comprehensive Platinum Medal review
– THIS IS NOT AN AD –
I grill them all year round, but they are the perfect grilled side dish for Thanksgiving dinner. If you are cooking my Ultimate Smoked Turkey, you can cook these on the grill after you remove the bird and before you slice it.
I yam what I yam
For the record, in case anyone is interested, these are not yams. The orange or yellow smooth skin pointy tuber that we love is technically correctly called a sweet potato, not a yam. A real yam has a rough woody skin, the interior is pale in color, and it is rarely found in grocery stores in the US. Somehow the two got confused in common use years ago. The United States Department of Agriculture (USDA) has tried to help but has actually deepened the confusion (insert wisecrack about government here). USDA requires that if you use the popular name yam on a sweet potato, you must also label it sweet potato, the correct name. As a result, we now use the names interchangeably, and incorrectly so. So don't let me hear you call these yams, OK?
Elevate ordinary fries by grilling them and by using sweet potatoes instead of russet potatoes. This recipe takes you to the grill, a healthier approach than deep frying, and gives you sweet potato fries seasoned with a sweet and spicy blend of brown sugar, chipotle powder, herbs, and other spices. It's pretty simple and the fries comes out smoky and golden brown.
---
---
Makes:
---
Takes:
---
Ingredients
2

medium sweet potatoes

2

tablespoons

vegetable oil

½

teaspoon

dark brown sugar

1

teaspoon

Morton Coarse Kosher Salt

¼

teaspoon

paprika

¼

teaspoon

rosemary or thyme leaves

¼

teaspoon

garlic powder

¼

teaspoon

ginger powder

⅛

teaspoon

chipotle powder
Notes:
About the chipotle powder. If you don't have chipotle powder (and the question is why don't you?), then you can use any hot pepper like cayenne, pepper flakes, or even ancho or American chili powder (which are not very hot). If you and your guest like things with a kick, double the chipotle.
About the salt. Remember, Morton coarse kosher salt is half the concentration of table salt so if you use table salt, use half as much. Click here to read more about salt and how it works.
For dipping. I love these shards of sweet and savory nekkid, but if you like, you can make a dipping sauce. Ketchup is NOT the best choice. Try just plain mayo (in Europe fries are served with mayo not ketchup), or sour cream. Or you can flavor them. I like mayo mixed with fresh grated ginger and/or a few drops of Asian dark sesame oil. A reader of my column on Huffington Post suggested a dipping sauce made by running Major Gray's Chutney and water through her food processor to the consistency of Ketchup. Sounds good to me. Or you can simply mount a daub of butter on them in the serving platter.
Stuck indoors? You can cook these babies in your oven. Just lightly coat a sheet pan, cookie pan, or a roasting pan with oil, crank the oven to about 400°F (you need a bit more heat since you are not cooking over flame), and turn them when the sides are golden.
Metric conversion:
These recipes were created in US Customary measurements and the conversion to metric is being done by calculations. They should be accurate, but it is possible there could be an error. If you find one, please let us know in the comments at the bottom of the page
Method
Fire up. Set up your grill in a 2-zone configuration. Preheat the grill so the air above the direct zone is about 325°F (163°C) or higher.

Prep. Cut the tips off the potatoes and dig out any bad spots. You can peel them if you wish but I prefer to leave the skin on. They say it is nutritious, but I just like the taste and texture. Cut the potatoes in half lengthwise, and then into quarters. If you are using really big taters, cut them again into eighths. If you prefer, you can cut them into disks about 3/8" (9.6 mm) thick.

Dump the potatoes into a large bowl, drizzle with the oil, and toss them so they are lightly coated. Mix the seasonings in a bowl and then sprinkle them on the potatoes. Toss some more until they are evenly coated.

Cook. Lay them on the grill so they get good horizontal grill marks, and close the lid. Hang around the grill, and after about 3 minutes, check and see if they have nice brown grill marks. If they do, rotate them to another side. Repeat until all sides are marked. When they are, they should be ready, and you can tell by poking them with a fork. It should slide in and out easily. When they are done, and they may not all get done at once, move them to the indirect side. If they have good grill marks and they are still not cooked through, move them to the indirect side, close the lid, and let them roast a bit longer, turning them as needed so they don't burn.

Serve. Like all fries, these are best served hot.
---
Nutrition per Serving
Calories:
321
kcal
|
Carbohydrates:
47
g
|
Protein:
4
g
|
Fat:
14
g
|
Saturated Fat:
11
g
|
Sodium:
1290
mg
|
Potassium:
775
mg
|
Fiber:
7
g
|
Sugar:
10
g
|
Vitamin A:
32119
IU
|
Vitamin C:
6
mg
|
Calcium:
70
mg
|
Iron:
1
mg