"If I was placed midway between a perfectly cooked lamb ribeye and a perfectly cooked beef ribeye I would starve to death trying to pick which to eat."Meathead
Rack of lamb is a classic fancy restaurant meal and some of my favorite meat in the world. At $20 or so per pound, it better be good.
The rack is the equivalent of a beef prime rib, and the meat is the equivalent of ribeye. But it is a lot smaller, usually somewhere just north of two pounds for a whole rack. After you trim it and cook it you have just enough for two, about 1 1/2 pounds.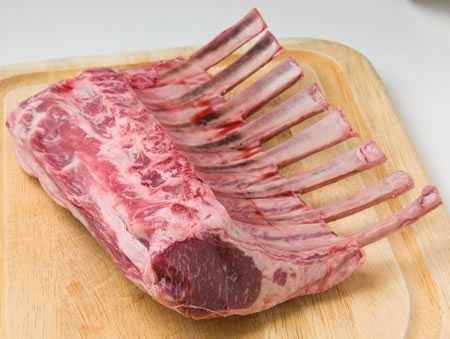 You can cook the rack whole, which is usually eight rib bones and a tube of spectacular loin meat coated with a thick layer of fat. Cook it whole and you have an impressive presentation, but I have a better way.
You need to remove the thick exterior fat layer and any silverskin underneath. The fat adds little flavor and prevents the meat from browning. Contrary to myth, fat caps do not improve flavor. Read this article on the subject of fat caps.
Most recipes call for coating the meat with mustard and breadcrumbs, but they cover the meat and get all the browning action. I want the meat to brown. So after trimming, I take one more step. In order to increase the marvelous Maillard and caramelization flavors of a brown surface, I cut the rack into four sections, each two bones wide. Cutting into single bone sections leaves me with chops that are too thin to get good and brown on the outside without overcooking the inside and it is tricky to get all eight chops the same thickness.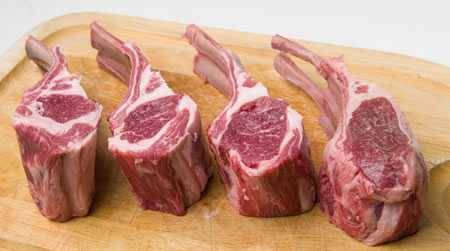 A lot of recipes call for "Frenching" the bones which is the process of removing all the meat between the bones so the bone is bare and showy. But that little sliver of meat in there between the bones is too good for me to waste, even though it usually overcooks, so I leave it.
I call them lollipops because the knob of meat, perhaps 2" diameter and 1.5" thick, can easily be eaten without the aid of knife and fork in about six bites.
Grilled Lamb Chops Recipe
Makes. 2 servings
Takes. 15 minutes of prep, 1 hour of letting the wet rub marry, another hour or 3 to marinate the meat, and 30 minutes to cook.
Ingredients
1 (8 bone, 2 pound) rack or lamb
4 medium cloves of garlic, skinned, stemmed, pressed, crushed, or minced
3 tablespoons finely chopped fresh rosemary or 2 teaspoons dried
6 tablespoons water
1/2 teaspoon fresh coarse ground black pepper
Coarse salt to taste
Optional. Add 1 tablespoon finely chopped fresh mint leaves.
Method
1) Mix the garlic, rosemary, pepper, and water and let it sit for at least an hour so the water can extract the flavors. This is called a wet rub.
2) Trim off all the fat cap. There is often a tough silverskin membrane beneath the fat cap that needs to go, too. Yes, this is a lot of waste from a cut that was expensive to begin with. Work carefully so you don't waste any of this expensive meat. Cut the rack into four fat chops by slicing between every second bone. Try to make them the same thickness so the will cook at the same rate.
3) Apply wet rub. Use a lot. Much of it will fall off during cooking. You can let it marinate for a while, but it really won't penetrate much. An hour or 3 is enough.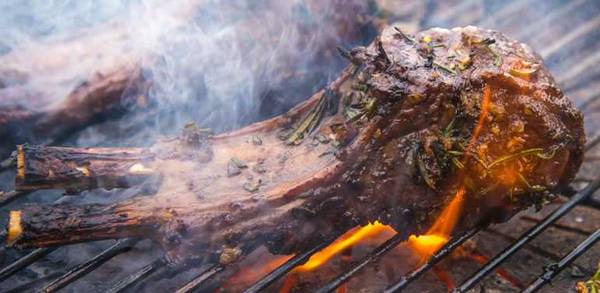 4) Preheat the grill for 2-zone cooking with the direct heat side at Warp 10. Warm the meat gently on the indirect side with the lid down for about 5 minutes per side. Then move the chops over the direct side to sear the exterior. Leave the lid open and place the bones over a sheet of foil. Don't wrap the bones, we want them to brown but not burn. This technique of warming the meat before grilling over direct heat is called reverse sear and it insures the most even colored interior possible. When you turn the meat try not to drag it across the grates and scrape off the rub, but turn often, about every 2 minutes. Take it up to 125°F or 130°F, 135°F at the most.
5) Now you may have noticed we haven't salted the meat yet. Usually I want you to do it long before you cook, but this small cut is best if you use a coarse salt for the end, just before serving, like granules on a pretzel. Go easy, it won't need much.