While there is no shortage of buzz when the McRib reappears for a limited run, the actual sandwich leaves a lot to be desired. Next time skip the hype and fire up our real deal rib sandwich!
Like cicadas, the McRib comes and goes, creating major buzz on the way. AdAge writes that McRib "has achieved cult status thanks in part to its scarcity." It has appeared nationwide only a handful of times, although it appears occasionally in individual stores or regions.
A culinary sleight of hand mixed with marketing magic and millions of adoring fans, McRib is a skinny pork burger dipped in a tangy sweet Kansas City style BBQ sauce, and hotcakes wish they sold this well. I will leave it to smarter folks than me to analyze the genius of limited edition planned scarcity for such a popular product, called "self-discipline" by one wag, and how the McRib has achieved legendary status in the world of hucksterism. As a cook, I'm more interested in the sandwich, and how I can make something like it, only better, with my home made copycat version of the McRib.
So what goes in to the sandwich? The patty is, according to McDonald's website, "pork, water, salt, dextrose, BHA, and BHT and propyl gallate and citric acid (preservatives)."
In other words, it is ground pork shoulder containing no actual expensive rib meat, doctored slightly with sugar (dextrose) and preservatives, and pressed in a 6 x 3″ corrugated form to vaguely symbolize a miniature slab of ribs, on one side at least. In other words it is a precooked, frozen hamburger from the animal that gives us ham, and reheated when ordered. In other words, it is leftovers.
Hungry for more ribs recipes, tips, and techniques? Click here to download our ebook "Amazing Ribs Made Easy" $3.99 on Amazon (free Kindle app runs on all computers and devices). Or, get this book and others FREE as a member of the AmazingRibs.com Pitmaster Club. Click here to join.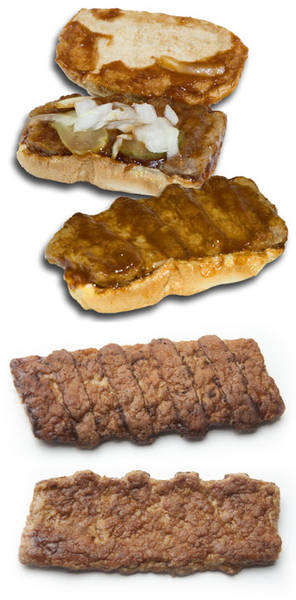 When I complained to a friend that the name is misleading and it should be changed, he said "Yeah and they oughta change the name of Girl Scout cookies for the same reason."
The sauce is "water, high fructose corn syrup, tomato paste, distilled vinegar, molasses, natural smoke flavor (plant source), food starch-modified, salt, sugar, spices, soybean oil, xanthan gum, onion powder, garlic powder, chili pepper, sodium benzoate (preservative), caramel color, beet powder."
That's pretty much what you get in bottled barbecue sauce, and all the more reason to make your own from scratch.
The patty is topped with some chopped raw onion and pickle slices made from "cucumbers, water, distilled vinegar, salt, calcium chloride, alum, potassium sorbate (preservative), natural flavors (plant source), polysorbate 80, extractives of turmeric (color)."
Not sure why pickles need anything more than salt and vinegar, especially such boring pickles.
The oblong bun, which has a slightly rustic look from cornmeal on the surface, has a bit more stuff inside, like "enriched flour (bleached wheat flour, malted barley flour, niacin, reduced iron, thiamin mononitrate, riboflavin, folic acid), water, yeast, high fructose corn syrup, contains 2% or less of the following: salt, corn meal, wheat gluten, soybean oil, partially hydrogenated soybean and/or cottonseed oils, dextrose, sugar, malted barley flour, cultured wheat flour, calcium sulfate, ammonium sulfate, soy flour, dough conditioners (sodium stearoyl lactylate, datem, ascorbic acid, azodicarbonamide, mono- and diglycerides, ethoxylated mono- and diglycerides, monocalcium phosphate, enzymes, guar gum, calcium peroxide), calcium propionate (preservative), soy lecithin."
All that to make a bun?
Based on my monitoring of the Twittersphere, it's all about the sweet sauce. McDonald's could put cardboard on a bun and pour that sauce on it and people, mostly young people, would pay $2.49 for it. Fer cryin' out loud, just get a bottle of Sweet Baby Ray's and stick a straw in it folks.
So on the night before repeal of McRib, I decided to bring back a taste of summer and fire up my grill and whup up some nice meaty baby backs, following my recipe for Last Meal Ribs. I made a few extra racks so my guests could take some home and I kept a slab myself. To honor the passing of McRibs, the next day I created the AmazingRibs Sandwich to fill the void.
Why wait for the McRib to return when you've got an amazing rib sandwich recipe? Learn more about the fabled McRib sandwich while creating one that takes it over the top. Ribs are smoked to perfection before the meat joins homemade pickles, caramelized onions, and custom BBQ sauce on a buttery brioche bun.
---
---
Makes:
---
Takes:
---
Ingredients
1

slab

leftover cooked baby back ribs

1

large onion, sliced or chopped

3

quality buns
Notes:
About the ribs. You can use either baby backs or spare ribs or St. Louis Cut. Baby backs are slightly leaner. Make my Last Meal Ribs yourself, or use leftovers from a trip to your favorite rib joint.
Sauce is optional. I skipped the sauce because the small amount remaining from the original cook is enough for me. No need to hide this meat! But if you must, keep it to no more than 2 tablespoons per sammie. And for real goodness sake, make your own! At a certain age, every adult should have a signature home made barbecue sauce that guests can marvel over. There are numerous regional variations, from the typical tomato and molasses style of Kansas City to the mustardy sauces of South Carolina to the vinegary sauces of North Carolina to the thin tomato soupy sauces of the Texas Hill Country. Click here for your choice of barbecue sauce recipes.
About the pickles. You can buy them, or better still, make them yourself. They're easy, and you don't get any of the preservatives.
About the buns. I like a serious bun like a brioche or pretzel roll, as in the picture at the top of the page.
Metric conversion:
These recipes were created in US Customary measurements and the conversion to metric is being done by calculations. They should be accurate, but it is possible there could be an error. If you find one, please let us know in the comments at the bottom of the page
Method
Prep. Slice the rib slab into individual bones, and carefully run a sharp knife along the bones to remove the meat trying not to hack off any cartilage. Then chop the meat into 1/2" (1.3 cm) chunks.

Cook. Reheat the meat in a pan with a little barbecue sauce, or, my preference, in the microwave, without sauce.

Either chop the onion and serve it raw on the sandwich, or can cook it. You can just lightly cook it in some butter in a pan or grill it, or you can slowly caramelize it. Caramelizing it makes the onion into a sweet relish that obviates the need for sauce.

Toast the bun under the broiler to make it crunchy. I think this is an important step.

Assemble the sandwich with a heaping scoop of chopped meat and 1 or 2 tablespoons of sauce on top if you must. Then mount the onions and pickles.
---