It's "game on" when it comes to creating tender, mouthwatering smoked venison spareribs, featuring a flavorful coffee dry rub.
Petite in size but big in taste, venison ribs are a great change of pace from pork ribs, even for those who might be hesitant to try game meat for the first time. Why? According to T. Edward Nickens in the December 2009 issue of Field & Stream magazine, "because venison is low in fat. Because it can be obtained relatively cheaply. Because it is free of the pharmacological stew of growth hormones, antibiotics, and antifungals fed or injected into commercial livestock." Plus it tastes good!
Hungry for more ribs recipes, tips, and techniques? Click here to download our ebook "Amazing Ribs Made Easy" $3.99 on Amazon (free Kindle app runs on all computers and devices). Or, get this book and others FREE as a member of the AmazingRibs.com Pitmaster Club. Click here to join.
To complement the meat's rich and mildly gamey taste, this grilling recipe starts with a robust coffee-based dry rub. Next, we smoke the ribs until they are mouthwateringly tender. Finally, the ribs are brushed with a simple coffee BBQ sauce to balance all of the flavors.
Smoked Venison Ribs with Coffee Dry Rub Recipe
Venison often gets a bum rap as being dry and tough. Forget everything you think you know about venison and try this recipe and technique to produce tender, mouth-watering ribs that will rival anything you've ever had before.
Course. Dinner. Entree.
Cuisine. American.
Makes. 2 servings, 1/2 rack each.
Takes. 10 minutes of prep. 2 hours to smoke.
Serve with. A porter or stout beer.
Ingredients
The Meat
1 rack venison spareribs (I used the ones found here at Nicky USA)
1/4 teaspoon Morton's coarse kosher salt per pound of meat
2 tablespoons mayonnaise
Coffee Rub
1 tablespoon finely ground coffee
1/2 tablespoon brown sugar
1/2 tablespoon smoked paprika
1 teaspoon ground black pepper
1 teaspoon ground fennel
/21 teaspoon granulated garlic
1/2 teaspoon onion powder
Coffee BBQ Sauce
1/2 bottle of your favorite BBQ sauce
2 tablespoons espresso or very strong coffee
About the salt. Remember, kosher salt is half the concentration of table salt so if you use table salt, use half as much. Click here to read more about salt and how it works
About the mayonnaise. The use of mayonnaise is completely optional but is something that I have done for years. As with the more popular yellow mustard, the mayonnaise serves as a binding agent for the dry rub without drastically the flavor of the finished meat. Unlike mustard, mayonnaise is high in fat, something that only benefits the ribs.
Method
1) Prep. For the rub, combine the ground coffee, brown sugar, smoked paprika, black pepper, ground fennel, granulated garlic, and onion powder in a small bowl and blend well.
2) Remove the membrane from the ribs (read more on removing the membrane here).
3) Season the ribs with Kosher salt. If you can, give the salt 1 to 2 hours to be absorbed. The process of salting in advance is called dry brining. The rule of thumb is 1/2 teaspoon of kosher salt per pound of meat, but ribs are about 50% meat, so use about 1/4 teaspoon per pound. You can simply eyeball it by sprinkling on the same amount of salt you would sprinkle on the ribs if they were served to you unsalted.
4) Fire up. Prepare a smoker for indirect cooking. Alternatively, you can set up a charcoal grill for 2-zone cooking by placing a chimney full of pre-heated charcoal briquets on one side of the grill's charcoal grate in order to create direct and indirect cooking zones. Adjust the smoker or grill vents to bring the temperature to about 225°F and add 2 to 3 chunks of your favorite smoking wood to the charcoal for flavor. On a gas grill, adjust the temperature knobs so that one half of the grill is off and the other half is heated enough to maintain a temperature of approximately 225°F on the indirect side.
5) Cook. Once the smoker or grill is ready, brush both sides of ribs with mayonnaise and season with the coffee dry rub mixture.
6) Place both racks of ribs on the main cooking grate as far away from the heat source as possible. Set the lid on the grill with the fully opened top vent positioned directly above the ribs in order to force the smoke over and around the meat. Allow the ribs to smoke until the meat is tender and has significantly pulled away from the bones, 1 1/2 to 2 hours.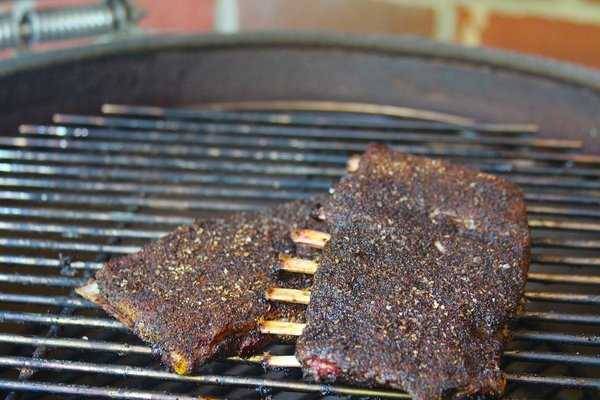 7) As the ribs smoke, combine the BBQ sauce and coffee in a small saucepan and warm over medium-low heat. Allow the sauce to simmer for approximately 5 minutes until it has thickened slightly. Remove the sauce from the heat and set it aside until ready to use.
8) During the last 5 minutes of cooking, baste both sides of the ribs with the coffee BBQ sauce and cover the grill so the sauce can become tacky.
9) Serve. Remove the ribs from the grill, slice, and serve immediately with the remaining BBQ sauce.
"People who love to eat are always the best people."Julia Child
Published On:
01/21/2018
Last Modified:
09/22/2020