"Pizza makes me think that anything is possible."Henry Rollins
Capicola is the star of the show in this recipe for a delicious grilled pizza. Capicola is a traditional cured and lightly smoked pork product from Naples, related to bacon, and some good examples are made in the US and Canada. It is widely available on deli counters at groceries. It is usually a large log, about 3" in diameter, dusted with spicy pepper on the outside, and it is sliced thin. Don't worry about the pepper, it is hardly noticeable when the meat is sliced thin. Before you start, I recommend you read my article The Science of Grilled Pizza (Pizza alla Griglia) for making grilled pizza.
Grilled Capicola Pizza Recipe
Makes. 1 (14") thin crust pizza
Preparation time. 30 minutes (not counting the time to make the dough)
Cooking time. 15 minutes
Ingredients
16 ounces Roman style pizza dough
2 tablespoon extra virgin olive oil
6 tablespoons tomato sauce
4 tablespoons grated Parmigiano-Reggiano
2 tablespoons oregano, dried
2 meaty tomatoes, like Romas, stemmed, seeded and chopped
12 large leaves of fresh basil, washed and patted very dry
1 medium onion, sliced thin
10 Kalamata olives, pitted
1/2 sweet red pepper, seeded, cored, sliced thin
1/4 pound capicola, chopped or torn into 3/4" chunks
2 pinches coarse salt and several few twists of the pepper mill
1/4 cup grated fresh buffalo mozzarella in water
5 tablespoons grated provolone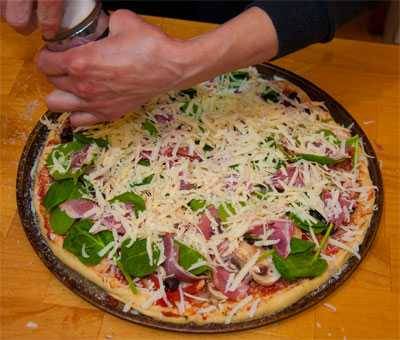 About the cheese mix. We almost always use more than one cheese, and we go light on them. We rarely use regular grocery mozzarella because it is so bland. If we can't find buffalo mozzarella, any fresh mozzarella or chevre will do, just drop it on top as chunks. Often we will use asiago instead of mozz since it has so much more flavor. It's a different taste, but it's a good taste.
About the oregano and basil. Fresh basil is essential but somehow we find dried oregano makes a more "authentic" taste. If we can't get basil, we often use spinach. It's a different taste, but it's a good taste.
About the tomatoes. The reason we remove the seeds and jelly is because they are very watery and they can make the crust soggy. To do this, cut off the stem end , hold it cut end over the trash can, and squeeze.
About the olives. If they are large, split them in half.
Options are unlimited. Slices of jalapeño are nice, as are capers, sun dried tomatoes, hot red pepper flakes, and, of course, Italian sausage, pepperoni, and anchovies.
Method
1) Make the dough 1 to 3 days in advance and store, wrapped in a container with room for it to expand in the fridge.
2) Preheat the grill to high. Shoot for 450 to 500°F. If you wish to use a pizza stone, put it on so it will heat slowly and get good and hot. But a stone is not necessary. Most of the time we just use a 14" aluminum pan.
3) Coat the pan with oil. Throw some flour on the counter and roll out the dough until it is about 15" diameter. Place the dough in the pan and as it shrinks, spread it to the edge with your fingers, and don't worry if it is not perfectly round. With a pastry brush or spray bottle, lightly coat the top with olive oil. Now the sauce goes on. Take it all the way to the edge because it will give great color as it cooks. Then the parm, herbs, onion, olives, red pepper, capicola, salt and pepper, and the rest of the cheese. Spread it out evenly.
4) Grill in the pan or a preheated stone until cheese bubbles and bottom is golden brown brown, cut, and serve.