Mass produced brats have nothing on this delicious home made version.
Classic bratwurst is an emulsified sausage mixture, which means it has a fine even smooth texture and gets all of its snap from the casing. To achieve this finely ground texture the meat is passed through a fine grinding disc then usually pureed in a food processor. Brats have distinct flavor that comes from the mace and ginger in the seasoning blend so make sure to use mace and not substitute nutmeg. 
Your own homemade German style bratwurst is sure to be a hit with guests at your next BBQ and grilling cookout. 
While you are at it, be sure to check out our "brat tub" recipe for preparing the home made bratwurst!
Brat Tub Tailgating
The Wisconsin brat tub combines three local faves: Brats, mustard, and beer (remember, Milwaukee was once the beer capital of the nation).
Check out this recipe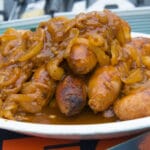 This tasty recipe for making your own homemade German style bratwurst is sure to be a hit with guests at your next BBQ and grilling cookout. With a silky smooth texture and perfect snap from the casing, these classic bratwursts are perfect for the grill and put the mass produced store bought versions to shame.
Serve with: An American lager.
---
---
Makes:
Servings:
ounce) links or patties
---
Takes:
---
Ingredients
2 1/2

pounds

pork shoulder or butt

1/2

pound

beef or pork fat or a blend

1

tablespoon

Morton Coarse Kosher Salt

1

teaspoon

sugar

2

teaspoons

ground black pepper

4

teaspoons

garlic powder

2

teaspoons

dry mustard

4

teaspoons

ground ginger

1/2

teaspoon

savory

1/2

teaspoon

mace

1/2

cup

ice cold milk
Notes:
About the salt.
Remember, kosher salt is half the concentration of table salt so if you use table salt, use half as much. Click here to read more about salt and how it works.
About the secret ingredients. Mace and savory, and don't skip them. Note that we speak often of savory flavors, but that is different from the herb named savory.
Metric conversion:
These recipes were created in US Customary measurements and the conversion to metric is being done by calculations. They should be accurate, but it is possible there could be an error. If you find one, please let us know in the comments at the bottom of the page
Method
Slice the meat and fat into cubes removing gristle and sinew. Place it on a plate or pan in the freezer, along with the grinder parts that will contact the meat. Leave it there for about 20 minutes until it is firm but do not let it freeze. This makes grinding easier.

Grind it with a 1/4" (6.3 mm) die. Mix in the other ingredients. To get the right classic brat texture, transfer the mix to a food processor and pulse till smoothly emulsified.

Pinch off a small piece of the sausage and cook it in a frying pan let it cool and taste to see if the seasoning is to your taste. Brats are almost always served as links, but if you wish, nobody will arrest you if you form it into patties, meatballs, or skinless tubes. At least not outside of Wisconsin.

Cook. You can then grill or smoke it, or store it in the fridge for about 5 days or in the freezer for about a month.
---