Salmon Sausage & Burgers Recipe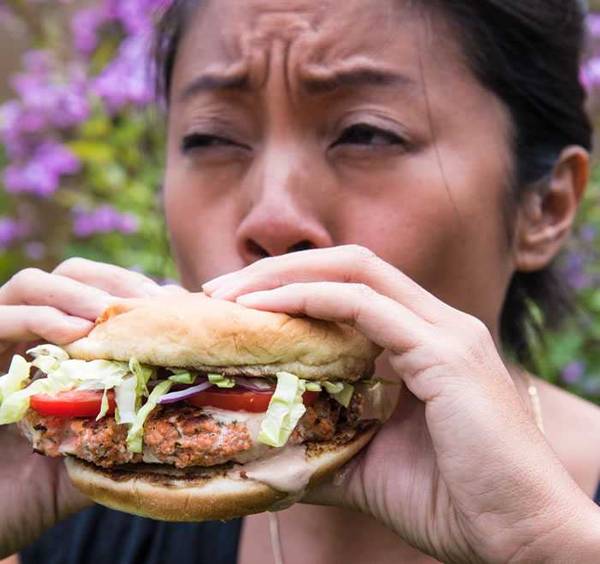 If you've never tried seafood sausage then you don't know what you're missing. In this recipe, you'll learn how to make your own homemade salmon sausage.
While there is no replacement for a pork or beef sausage, seafood versions such as this recipe made with salmon, can be a welcomed change of pace.
We have enjoyed making our own, both as a cased sausage and as a patty, and frankly, although we miss the snap of a casing, we like it better as a patty. Once formed, we like to grill it then serve on a toasted bun smeared with some mayo flavored with garlic or sesame oil topped with some crisp lettuce, tomato, and a thin slice of red onion. It's absolutely delicious and will be a welcomed surprise at your next grilling party. Just look at Sarah's expression above!
Also try it as meatballs with pickled carrots and jalapeños for Banh Mi sandwiches or in ramen soups.
In this tested recipe you'll learn how to make your own flavor packed homemade salmon sausage. Perfectly seasoned, the salmon sausage can either be made into stuffed links, tubeless links, patties, or meatballs. at your next cookout, try serving it on a crusty bun with flavored mayo, lettuce, and tomato.
---
---
Makes:
Servings:
5
9-ounce links or patties
---
Takes:
---
About the salmon. Don't use canned salmon, fresh only. It won't hold together if you use canned.
About the salt. Remember, kosher salt is half the concentration of table salt so if you use table salt, use half as much. Click here to read more about salt and how it works.
Optional. About 4 1/2 feet of pork casings, 3 tablespoons chopped fresh parsley, and chile flakes for heat.
Prep. Before making sausage, please familiarize yourself with best practices as described in our article on The Science Of Sausage Making.

Slice the meat into cubes removing all bones. Place it on a plate or pan in the freezer, along with the grinder parts that will contact the meat. Leave it there for about 20 minutes until it is firm but do not let it freeze. This makes grinding easier.

Grind it with a 1/4-inch die or you can do this in a food processor. Pulse all the ingredients but be careful not to over process into a paste. Mix in the rest of the ingredients.

Cook. Pinch off a small piece of the sausage and cook it in a frying pan let it cool and taste to see if the seasoning is to your taste. Form it into patties, meatballs, skinless tubes, or encase it. You can then grill or smoke it, or store it in the fridge for a day at the most, or in the freezer for about a month.
---
Related articles
Published On: 5/22/2013 Last Modified: 3/25/2021