The best Italian sausage you've ever eaten awaits with this recipe for making them yourself.
In Italy there are many many salsiccia and salame, and each region has its special log of meat. The most famous are Genoa salami, mortadella, cotechino, and soppressata. Interestingly, there is no bologna sausage in Italy, the local sausage in the town of Bologna is called mortadella. There is most definitely nothing called "Italian Sausage".
But the term "Italian Sausage" has emerged in the US, and it has a specific flavor profile. It is a tube of coarsely ground pork sausage in natural pork casing, usually about 25% fat, with a distinctive flavor from fennel seed. It comes in three grades, sweet, mild, and hot. The main difference is the amount of hot pepper added, although a few of the sweet blends include basil, and the heat and other seasonings vary significantly from butcher to butcher. It is sold raw, not cured or smoked, and it can be bought in standard 6″ links, in coiled ropes, or loose like burger meat.
Spotlight on our favorite products
The Good-One Is A Superb Grill And A Superb Smoker All In One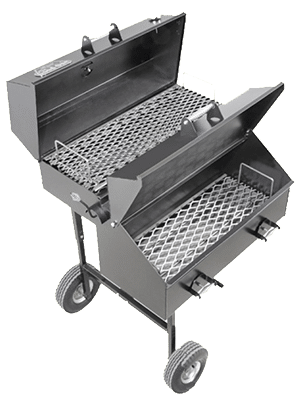 The Good-One Open Range is dramatically different from a traditional offset smoker, placing the heat source behind and under the smokebox instead of off to the side. Click here to read our complete review.
– THIS IS NOT AN AD –
The origin of the recipe is uncertain, but Judy Witts Francini, a cookbook author, teacher, and culinary tour guide based in Italy, tells me that there is something similar in Sicily, which makes sense since Southern Italy is where most Italian-American immigrants originated.
Italian sausages are always a welcomed addition to any cookout but why settle for store-bought when you can make them yourself!
---
---
Makes:
Serve with: an IPA or pale ale.
---
Takes:
---
Ingredients
2 1/2

pounds

ground pork

1/2

pound

pork fat

1

tablespoon

whole fennel seeds

1/2

teaspoon

ground fennel seed

2

tablespoons

mild American paprika

2 1/2

teaspoons

 Morton Coarse Kosher Salt 

1 1/2

teaspoons

coarsely ground black pepper

1

teaspoon

sugar

1

teaspoon

sweet red pepper flakes

1/2

teaspoon

garlic powder

1/2

cup

ice water

pork casings

(about 4 feet)
Notes:
About the salt. Remember, kosher salt is half the concentration of table salt so if you use table salt, use half as much. Click here to read more about salt and how it works.
Metric conversion:
These recipes were created in US Customary measurements and the conversion to metric is being done by calculations. They should be accurate, but it is possible there could be an error. If you find one, please let us know in the comments at the bottom of the page
---