Put a little South in your mouth with the best cheese spread ever.
When asked what his death row last meal be, Bon Appétit magazine's restaurant editor Andrew Knowlton replied "I'm from the South, so to me it would be pimento cheese."
You can buy it in plastic tubs at the grocery, but get a look at all the stuff in there besides pimento, cheese, and mayo? So learn how to make it yourself. Nothing could be easier.
Pimento Cheese has many nicknames: PC, Carolina Caviar, Atlanta Paté, and Menta Cheese. In the South, particularly the Carolinas and Georgia, you cannot have a church social, family picnic, card game, wedding, or any social gathering without Pimento Cheese sandwiches. Kids ask for it with the same frequency as they ask for peanut butter up north. Traditionally it is spread on white bread and that's all. At the country club events the crusts are removed, it is cut into four triangles, and served on silver platters. At the Masters Golf Tournament in Augusta, GA, they serve PC sandwiches wrapped in green wax paper (hold your pinkies out, please). Even in such classy settings, they spell it pimento, not pimiento, the technically correct spelling.
Classic Carolina Caviar Recipe
The traditional recipe is simple: Sharp cheddar cheese, mayonnaise, pimentos, salt and pepper. You can adjust the ingredients up and down as you wish. In the dorms they use Velveeta, but that stuff is one electron from being plastic, so I recommend real cheese. You can buy pimento in jars or you can make your own simply by roasting your own sweet bell peppers. It is cheaper to make your own, and you can amp it up a notch by grilling or smoking the peppers. Click here to learn how to make your own pimento. The classic pimento cheese is chunky. But you can make is easier to spread and stuff into tomatoes or deviled eggs by pureeing it in the food processor. You have a bit more cleanup, but it's worth it.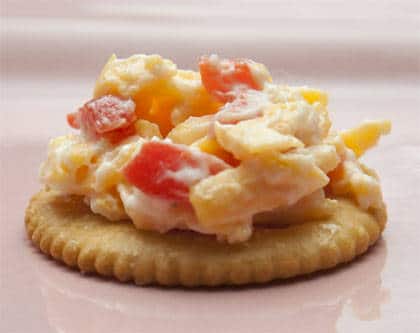 Course. Appetizer. Side Dish. Snack.
Cuisine. Southern. American.
Makes. 8 sandwiches
Takes. 15 minutes to prep
Ingredients
1 pound sharp cheddar cheese
1 cup mayonnaise such as Duke's, a southern favorite
2 (4 ounce) bottles pimentos, drained and chopped into 1/4" bits or one medium fire roasted sweet red bell pepper chopped into 1/4" bits
1/2 teaspoon sugar
2 pinches table black pepper
2 pinches Morton's coarse kosher salt (read more about the science of salt here)
About the pimentos. A 4 ounce jar of pimento has about 3 ounces of pimentos and one ounce of liquid, and that is equivalent to about 1 medium red pepper after roasting and skinning (I weighed a large bell pepper at 8 ounces raw with stem and seeds, and after grill roasting and skinning I got about 5 ounces). You don't have to be precise about this. If you use jarred pimento, save the liquid in the fridge. It is great mixed in with rice or in a sauce.
Mix-ins. Many cooks have found ways to personalize their recipe. Common additives are chunks of roasted pecans, grated onions, chopped scallions, Worcestershire, hot sauce or powder, pickle relish, chopped basil, and black pepper. I like to add jalapenos or other hot chiles. Jazz it up if you want!
Aging PC. Although PC is quick and easy to thrown together, it needs a few hours, overnight is best, for the pimento flavor to migrate into the cheese and mayo so every bite has optimal flavor. But don't let it sit around for days. It tends to get watery.
Method
1) Prep. Grate the cheese on the big holes of a box grater into a bowl. Mix in the rest of the ingredients. If you want more mayo, add it. More pimento, sugar, pepper, salt? Add it. There is plenty of room for personalization. Do you prefer Miracle Whip? Nobody will call the cops on you.
Optional. Throw the whole thang into the food processor and whup it up until it is fairly smooth as shown in the stuffed tomato above. There will be some fine granular texture. That's OK.
2) Refrigerate for a few hours to let the flavors marry. Before serving, let it sit at room temp for about 15 minutes so it is easier to work with.
3) Serve. Serve with crackers, as a sandwich, as a burger topping, and so much more.
"There's no such thing as being too Southern."Lewis Grizzard
Published On:
09/13/2013
Last Modified:
01/28/2021
When I was at the University of Florida in the 1960s, our favorite late nite stoner munchie was Ritz Crackers with PC. On road trips to away games and New Orleans we'd pack a loaf of Wonder Bread and a tub of storebought PC. Any trip through Atlanta would take us to The Varsity where, when we approached the counter they'd shout "What'll ya have!" and we'd joyfully shout back "Pimento Cheeseburger!" Occasionally we'd go wild and order their chili cheesedog with pimento cheese, or their decadent grilled cheese sandwich with pimento cheese.
PC's also really good on rye or whole wheat. Serve it on toast points, sliced French bread, and even garlic bread. Make grilled cheese sammies with it all by itself or add lettuce, tomato, and/or fresh basil. Don't forget the bacon. Use it to stuff cherry tomatoes as a snack, or a whole tomato as an appetizer. Can you see it melting into a baked potato? Stuff celery with it. Dip carrots into it. Add it to grits, chili, omelets, or scrambled eggs. Slather it on top of chili dogs or on burgers for a crazy good cheeseburger. How about a schmear on toasted bagels or on a BLT? I've even seen it on pulled pork in a joint in Mississippi, but I'm not ready for that myself.
Whadaya waitin' for? The game's about to start.