You'll love them so much you'll be chanting for s'more!
Every kid loves s'mores, those heavenly melanges of graham crackers, milk chocolate, and toasted marshmallows on warm summer nights over campfires as accompaniment to ghost stories. And truth be told, adults love them too. They are a powerful taste memory.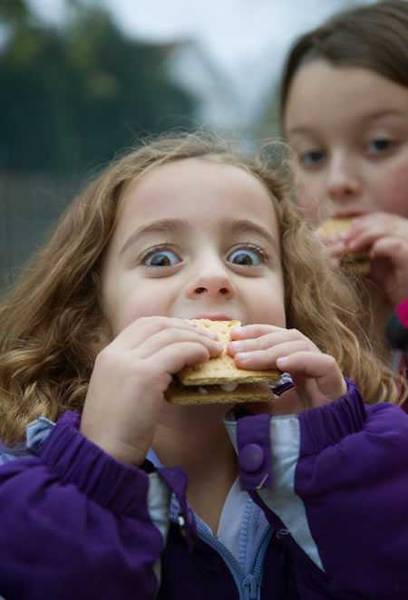 But making s'mores the traditional way has a flaw. The chocolate doesn't melt so you have this crunchy crust with warm gooey marshmallows, and cold waxy chocolate. I spent waaaay too much time trying to think of a solution.
You could take the complete assembly and put it on a grill grate over a medium fire and close the lid, but this is a pain, takes too long, and you risk burning the crackers while the marshmallow drips into the fire.
Then one night, in that netherland of half sleep and half awake, it hit me: Nutella! Pronounced "new-tell-uh", this is a wonderful spreadable blend of cocoa, skim milk, and roasted hazelnuts. It works beautifully in s'mores and tastes even better than with milk chocolate. The whole dessert sandwich's contents are soft, warm and runny immediately.
The History of Nutella
The Nutella story is fascinating. According to the company's website, during WWII, chocolate was in short supply in Italy, so Pietro Ferrero, a pastry chef in the northwest Piedmont region, had the bright idea to mix local hazelnuts with cocoa to extend dark delicacy.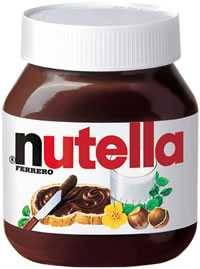 He called his creation pasta gianduja. Pasta means paste, and gianduja was the name of a popular clown. It was originally made in loaves so it could be sliced and fit on bread. But kids peeled away the bread and ate the filling. So Ferrero outwitted them and changed the recipe so it was spreadable, supercrema gianduja was born, and in 1964 it became Nutella.
Nutella became so popular that food stores started a service called "The Smearing". Children could go there with a slice of bread and buy a "smear". Today Nutella is as popular in Italy as peanut butter is in the US, especially at breakfast. You'll find it smeared on the local breads alongside strong coffee and orange juice in countless cafes.
Nutella should be stored at room temperature. Put it in the fridge and it will become impossible to spread.
Nutella is the key to creating the perfect s'more during your next campout or cookout. Here's a recipe for pure s'mores nirvana!
Serve with: a cold glass of milk.
---
---
Makes:
---
Takes:
---
Ingredients
2

graham cracker slabs

4

teaspoons

nutella

4

large marshmallows
Notes:
About the graham crackers. If you feel ambitious you could make your own graham crackers with this recipe from SmittenKitchen.com. Fruity S'mores. If you want to go crazy, cut up a banana and slice it in 1/4" disks and put them on the Nutella before the marshmallows go down. This method works with apples, pears, strawberries and other berries. Indoor S'mores. Spread the Nutella, roast the marshmallow over a burner on the stovetop, and place the marshmallow in top.
Metric conversion:
These recipes were created in US Customary measurements and the conversion to metric is being done by calculations. They should be accurate, but it is possible there could be an error. If you find one, please let us know in the comments at the bottom of the page
Method
Prep. Carefully break each slab of graham cracker in half so you have four squares with a perforation down the middle of each.

Spread a teaspoon of nutella on half the squares.

Cook. If you can find a forked stick for the marshmallows, you get a merit badge. If not, you can make something with a stick, but you really need two prongs to prevent the marshmallow from spinning and burning on one side, I often use my Long Handled Carving Fork. Beware of coat hangers. Many have a coating that could be harmful.

Roast the marshmallows to a tan color trying not to burn them by keeping them well back of the flame and rotating them. OK, I know some of you like to burn them. Go ahead. Just know you are setting a bad example for the kids and they'll probably grow up and burn your steaks when you come to their house. And you'll lose your merit badge.

Serve. Carefully place the molten marshmallows on top of the Nutella and place the other square of graham cracker on top. Smush. Eat!
---