Simple to make and simply delicious, this dutch oven dessert is a lot of fun to make when camping out.
Pie is the best dessert known to man because fruit is so much better than flour (OK, cake fans, let me have it). But they are a bit tricky to make because the pie shell must follow a rigid recipe and a procedure and the filling must be just right or it can be too runny or too dry.
But weekend warriors like us can make some superb pie-like rustic fruit desserts on the grill or in Dutch ovens from recipes created long before gas and electric stoves. And cooking the dessert couldn't be easier. Basically we skip the pie crust and simply cut up fruit, mix in sugar, pour it into a pot or pan, put some sort of topping on it, and bake. Called a "crisp", it is a fruit compote topped with a streusel. A compote is fresh, frozen, or dried fruit simmered with liquid and sugar, and a streusel, also called a crumb topping, is simply a crunchy mix of sugar, butter, and flour. The topping caramelizes and makes my favorite crust.
if you have a Dutch oven like this Camp Chef 10″ with a rim on the lid to hold coals, you can bake this delicious dessert in a campfire, on a grill, or just on a patch of dirt. You can do this in a simple baking pan or frying pan without a lid. I describe the method in the sidebar.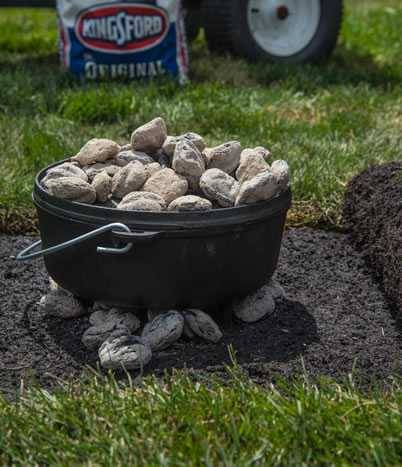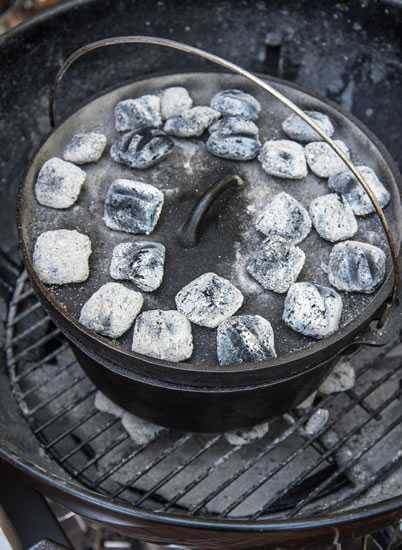 You can do this without the Dutch oven and with other fruits
You can bake this recipe on the indirect side of a grill set up in 2 zones. Here you can see a Peach Blueberry Crisp I like to do in July before apples come in and while peaches and bluebs are in high season. We also do it with peaches and plums. Start with a firm, slightly underripe peach, cut it into bite size chunks, and pour the compote into a pan. I used Corning ware but a metal baking pan or a frying pan works fine. Shoot for 325°F in the indirect zone and bake for about 45 minutes or until you see the juices bubbling. Keep the lid closed because you need the reflective heat to brown the topping.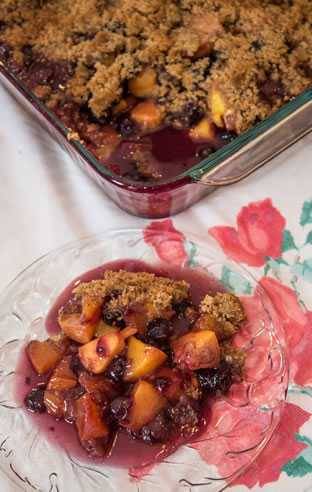 Other rustic fruit desserts
There are many other types of rustic fruit desserts. They have charming and confusing names that can vary from region to region, and nothing is set in concrete, or even batter for that matter. Thanks to Rebecca Richmond and her blog It's Not Easy Eating Green and her exhaustive dictionary of fruit desserts for helping me sort this out. She has recipes for each of these and more.
Brown Betty. A crisp with bread crumbs on top instead of flour.
Buckle. Cake batter topped with fruit compote and a streusel top baked in a pan or pot. The name might be because it was originally a cake that buckled under the weight of the fruit.
Clafouti. Whole berries, usually fresh cherries, are placed in a pan and then covered with an flour and egg custard. Or the custard can go in first, and then the fruit. Or both.
Cobbler. Fruit compote in a pan with biscuit dough, cake batter, cookie dough, and even pancake batter dolloped on top so the result looks like a cobbled road. Or maybe something you just cobbled together.
Crisp. Fruit compote in a pan or pot crowned with a crispy topping made from flour, butter, and sugar, called a streusel.
Crumble. A crisp with oats in the topping. But a lot of recipes called crisp have oats in them, so there.
Galette. A rustic pie, made with a bottom pie crust only, and usually not made in a pie pan but on a baking sheet. The edges are rolled in to keep the filling from spilling.
Pie. A pastry shell filled with fruit, custard, or nuts. Sometimes a second crust is placed on top, sometimes not.
Pandowdy. Fruit compote baked with a pie crust topping, but no crust beneath. Traditionally you are supposed to puncture the topping about halfway through the bake and paint the top with the juices.
Slump or grunt. A cobbler that is cooked on the stovetop. First you cook the fruit, then you add the topping and cover the pan so the top steams rather than bakes. Then you eat it and you slump, or grunt.
Now on to the show! Below is my recipe for an Apple Cranberry Crisp that is baked in a cast iron Dutch oven.
This dish is not only simple to make, it is a whole lot of fun for campouts given the fact that it is cooked with live coals!
Serve with: hard apple cider.
---
---
Makes:
---
Takes:
---
Ingredients
Ingredients For The Streusel Topping
3/4

cup

all purpose flour

3/4

cup

firmly packed brown sugar

(light or dark)

¾

teaspoon

ground cinnamon

1

large

egg

4

tablespoons

unsalted butter, melted

¼

teaspoon

Morton Coarse Kosher Salt

½

teaspoon

vanilla extract
Ingredients For The Compote
2

tablespoons

butter

to coat the pot

3

firm baking apples

2

cups

whole fresh or frozen cranberries

or other fruit like blueberries

1

tablespoon

all purpose flour

¾

cup

sugar

1

lemon

½

teaspoon

ground cinnamon

¼

teaspoon

 Morton Coarse Kosher Salt 
Notes:
About the apples. The best baking apples are on the hard side. The tried and true classics are Grannie Smith and Golden Delicious, and my favorite is Honeycrisp, but other good ones are Jonathan, Jonagold, Braeburn, Winesap, Cortland, Gala.
About the butter. If you have only unsalted butter, add 1/4 of kosher salt.
About the salt.
Remember, kosher salt is half the concentration of table salt so if you use table salt, use half as much. Click here to read more about salt and how it works.
Metric conversion:
These recipes were created in US Customary measurements and the conversion to metric is being done by calculations. They should be accurate, but it is possible there could be an error. If you find one, please let us know in the comments at the bottom of the page
Method
Streusel. Combining the flour, sugar, and cinnamon. Beat the egg, add it and mix until crumbly.

Make the compote. Coat the inside of the Dutch oven with butter, but not the inside of the lid. Make the compote by peeling the apples, cutting them in quarters, and removing the cores. Then cut the apples into slices about 1/4" (6.3 mm) thick, and drop them into a mixing bowl. Dump in the cranberries, flour, and the sugar. Scrape the zest off the lemon and add that. Then squeeze in the juice of the lemon (watch for seeds). Add the cinnamon and the salt. Pour the compote into the Dutch oven and top with the crumble. Pour the melted butter over the crumble.

Fire up. Start a chimney of about 36 charcoal briquets (half a Weber chimney). Wait til the get hot and are coated with white ash. Pour about 12 white briquets on the ground or on the charcoal grate of your grill and arrange them in a circle the same width of your Dutch oven.

Cook. Place the Dutch oven on top of the coals and place the lid on the pot. Add another 18 to 24 hot briquets to the top of the lid. Bake for about 45 minutes or until you see the juices bubbling. Take the lid off, let it cool for about 20 minutes (this is the hardest part of the recipe, not burning your mouth because you are impatient).

Serve. Scoop fruit and topping into bowls and top with whipped cream, sour cream, yogurt, or ice cream. Or nothing! Serve immediately.
---