Impress your guests by adding a smoky touch to your cocktail menu.
This may be one of the coolest and, at the same time, one of the goofiest ideas I've ever had. But it's not too surprising if you've read my bio and remember that I used to drink for a living. Regardless, you absolutely must try this.
The brainstorm hit me after reading the research by Dr. Blonder on thermophoresis (how smoke is attracted to cold objects). I was working on perfecting my Bloody Mary recipe, and I wondered if I could amp it up by figuring out how to create homemade smoked ice.
So I put some ice in a pan on my MAK 2 Star pellet smoker because it burns only wood. After it melted I dipped in a finger and tasted it. Eureka! Not an overpoweringly strong smoke, elegant, delicate, very much like the scent of smoke from the smoker itself.
For comparison, I added a few drops of grocery store liquid smoke to water and tasted it. Liquid smoke is made by burning hardwood, condensing the smoke in a still, and then dissolving it in water or alcohol. It was authentic tasting in that it tasted like wood smoke, but it was a bit harsh, more like sucking on a piece of smoking wood. It's the same taste as cheap ham.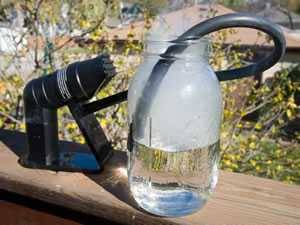 Finally, I tried using The Smoking Gun, a gizmo that looks like a hash pipe (remember, I went to college in the '60s). There's a thimble sized mesh bowl in which you place sawdust, a motor that pulls air across the smoldering powdered wood, and a tube that blows it into whatever you want. Chefs use it to blow smoke into a covered pan of food, like raw salmon. It's pretty clever, but just don't leave it on the seat of your car if you get pulled over.
Alas, it does not blow very hard and it could not displace the water in the jar if the hose was submerged more than 1/2″. It just stopped bubbling. The key is to blow smoke into the jar while it's covered in plastic wrap (you insert the hose just under the plastic) then keep it covered to trap the smoke.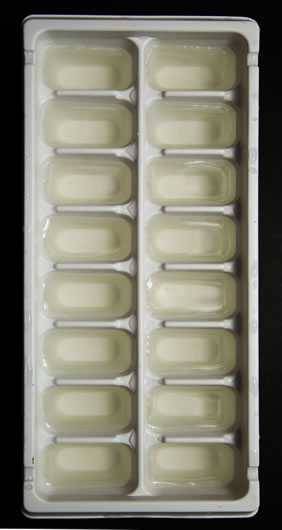 I then put all three smoked waters in ice cube trays and froze them. As you can see, the melted ice had a slight coloration. After they froze, I tasted all three. The ice cubes created in the smoker were by far the best.
It was not long before I had the cubes in Bourbon, Cognac, and Bloody Marys. It worked beautifully in all cases, and without a question made the best Bloody Mary I've ever tasted.
When I mentioned smoked ice on Greg Rempe's podcast, The BBQ Central Show during my monthly appearance, a listener sent me a link to an article in the New York Times on the subject. It described how bartenders are adding smoke to their drinks by other means, but none of them had discovered this simple technique.
At at Mistral Kitchen in Seattle, Amber Johannson makes and Old-Fashioned by filling a decanter with smoke from the Smoking Gun, then pours in the drink, and then pours it over the rocks.
At Mr. Brown's Columbia Room in Washington, a drink called Ghost Dance is made by lighting aromatic sweetgrass and a star anise pod under an upside down rocks glass which is then filled with the drink.
John and Ethan Terry at AQ in San Francisco lit a bay leaf with a torch (a match won't do?) and quickly pour ice over the burning shrubbery. In goes the cocktail.
I think you'll like my method better. And it's easier.
Method
1) Make a bunch of ice cubes the normal way. You can smoke water, but ice has more surface area and smoke clings to cold surfaces.
2) Dump them into a shallow pan. High side will block the flow of smoky air. But the ice will melt, so make sure the sides are high enough to hold the water.
3) Set up your smoker, gas grill or charcoal grill for 2-zone indirect cooking with smoke. Keep the temp low, about 225°F, and smoke for about an hour. The ice will melt.
4) Freeze the smoked water in ice cube trays, or pour the smoked water into a zipper bag, freeze it, then pound it with a hammer or sauce pan.
5) Keep the cubes in the freezer until needed. Add them to drinks in the normal fashion, and let me know what creative things you find to do with them.