"They were very, very hungry. They wanted to live in a land that treated them as equals, a land filled with hamburger stands. And not just one type of hamburger, okay? Hundreds of types with different sizes, toppings, and condiments." From Harold & Kumar Go To White Castle
The Sutter Home Winery's Build a Better Burger Contest puts a lot of emphasis on the condiments. "In my opinion," says James McNair, Honorary Chairman and Head Judge, "the meat patty is a major component of a good burger, but remains only one part of a burger. The bread, as Alice Waters stated in my first book on burgers, is equally important, and great condiments can elevate a plain burger into a sensational taste treat. At BBB we certainly want the patties, whether made from beef or another protein, to be high-quality, well seasoned, and nicely cooked, yet each of the other elements must be equally as good and exciting. Our contest is about creativity and good cooking, not about simply perfecting the old tried and true."
Me? I'm all about perfecting the old tried and true, so I keep the condiments simple and let the beef shine through.
What we like on our burgers
According to a survey by the Hearth, Patio & Barbecue Association (HPBA), adult Americans report they use ketchup most often (66% of respondents), with mustard (62%) close behind. "Cheese, please!" say 66%, while 74% add lettuce, onion and/or tomato. Women lean towards the veggies more than men (80% vs. 68%), and 70% say they prefer a traditional bun to complete their grilled sandwiches.
According to a survey of 1,000 adults 18 years of age or older in the contiguous US conducted in April 2007 by Synovate/eNation on behalf of Johnny Rockets hamburger chain, ketchup rules the condiments and is the most preferred topping (63%), followed by mustard (50%) and mayonnaise (42%). Other popular toppings include lettuce, tomato, onion, and pickles. Fewer than 2% said that they prefer their hamburgers plain.
Bottomings
Most folks put their sauces on top of the patty, but I disagree with this strategy. I put the liquid stuff on the bottom so it can soak into the bun, coat the meat, mix with the juices that drip down, and anchor the patty in place, especially since you only have your thumbs to hold the bottom bun. Some folks like to put lettuce on the bottom to act as a barrier between the burger juices and the bun in an attempt to keep the bottom bun dry. But I disagree with this strategy. With lettuce on the bottom, the patty slides around too much and two thumbs are not enough to control it.
Here are some bottomings you might want to try either solo or in a blend: Ketchup, mustard (or mustard sauce), mayo, steak sauce, Kansas City style barbecue sauce, thousand island dressing, salsa, remoulade sauce, balsamic vinegar reduction, aioli, chimichurri sauce, tonkatsu sauce, mayo with a few drops of sesame oil mixed in, hot sauce in sour cream, smashed avocado or guacamole, horseradish cream sauce, sweet-sour pickle relish, roasted garlic, minced jalapeño, or giardiniera.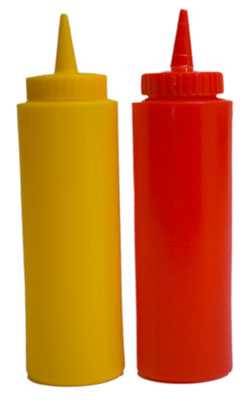 If you ask me, mustard belongs on hot dogs and ketchup on burgers, and, as they say in Ghost Busters, one should never cross the streams. But more than a few respected burger-philes prefer the opposite.
Many restaurants have their own "Secret Sauce". The simplest is "Fry Sauce", which was created for French fries and uses a blend of 2 parts mayo (the dip of choice in Europe), and 1 part ketchup (dip of choice in the US). A typical, and more complex sauce, is a blend of ketchup, mayo, mustard, and perhaps sweet-sour pickle relish. In the Pacific Northwest there is a popular sauce called "Goop" made with mayo, mustard, sour cream, and pickle relish. Here's my favorite Hamburger Sauce, which I call "Glop". I've been known to use it on both burgers and fries. It's got a mild kick.
Big Mac Special Sauce
McDonald's is famous for it's Big Mac with its "Special Sauce." Here's how to make it at home.
Recipe for Hamburger Secret Sauce: Meathead's Glop
Makes. 1 1/4 cup or enough for about 25 burgers. It will keep in the fridge for months.
Preparation time. 5 minutes if you take a nap during the process.
Ingredients
1/2 cup mayonnaise
1/2 cup Kansas City Style Barbecue Sauce or ketchup
3 tablespoons yellow mustard
1 tablespoon Tabasco Chipotle
1/2 teaspoon kosher salt
1/4 teaspoon garlic powder
Do this
Whisk everything together in a bowl until smooth. Take the day off. Obviously nothing is set in concrete about this recipe. You can vary the ingredients to your taste or doctor them with other ingredients. But start with this and then add what you like. Write it down, and do it again. Don't worry about the hot sauce. It gets lost on the burger. Add more if you wish. Just don't make it so hot you can't taste the beef.
Toppings
On top of the patty is where I put this big slippery stuff because you have eight fingers to manage the top.
The Build A Better Burger Contest is all about the condiments. Me? Some of these concotions sound wonderful, but they are just too fussy and hide the meat. I'm fine with lettuce, tomato, and onion. Period. OK, maybe two strips of thick bacon. I'm not even a big fan of cheeseburgers.
Lettuce. I want crisp, cold lettuce that crunches and squirts cold water on top of the hot meat juices. This is the perfect use for iceberg or Romaine lettuce. Especially the thick bottom parts.
Tomatoes. As for the tomatoes, try to find big beefsteak style tomatoes the same diameter as the patty. When you use small slices, they move around too much and usually fall out. Always use ripe tomatoes, no underripe pink rocks. They're too acidic. Nowadays you can often find real ripe tomatoes all year 'round that are grown in greenhouses. Campari tomatoes are grown in a greenhouse, usually grown hydroponically (in nutrient solutions and inert media like gravel, no dirt), about the size of golf balls and almost always delicious, perfectly ripe, and juicy. Interestingly, many come from Toronto. Plum tomatoes are less juicy if you want more substance. If I can't find ripe tomatoes, I live without them.
Onions. As with the tomatoes, I like a single thin slice of raw onion the same diameter as the patty. In season, I go for a slice of sweet onion like Vidalia (May through July) or Walla Walla (June through August). If they are not in season, it's red onion for me. Sometimes I put the onion on top of the burger while it's on the grill to take the edge off and make it less slippery. If you're making a cheeseburger, you can anchor the onion in place by putting the cheese on top. Just don't slice the onions long in advance. Onion slices or chopped onion can get really stanky when it sits around for an hour or more. They taste best when freshly sliced.
Many people prefer grilled, griddled, or caramelized onions. I have a soft spot for these, but they're slippery, and thery're a bit sweet for me for regular burgers, although I love them on cheeseburgers. A lot of pubs like to top burgers with breaded fried onion rings. I've even enjoyed burgers with those crunchy fried onions from the can, and I've seen menues with pickled onions.
Cheese. Put cheese on it and you've made a cheeseburger. In parts of the Southeast, pimento cheese spread supplants both the melted cheese of the cheeseburger and the need for ketchup or other sauces. More on that soon.
Bacon. What doesn't go well with bacon? Add bacon and you get smokiness, sweetness, and saltiness. A remarkable variation on the theme is, are you sitting, pastrami as served at Hymie's in Merion Station, PA. Clcik here to learn how to make your own bacon or pastrami.
Stylin'. If you agree with McNair and want to do some stylin', try: my recipe for sweet sour pickle slices, pickle relish, grilled tomato, roasted red peppers, sautéd mushrooms, thinly sliced pears or apples, potato chips, or slaw. Or go to his website, which has some amazingly creative creations.
In Chicago, the spectacular Kuma Burger at Kuma's Corner has a sunny side egg on top to complete the steak and eggs combo.
In LA it is not hard to find crumbled spicy Mexican style chorizo sausage on top, a sort of South of the Border chiliburger.
Then there's the pizza burger topped with tomato sauce and melted mozzarella cheese. Or the Carolina Pimento Cheeseburger, Green Chile Cheeseburger, Beanburger, or one of the other regional styles. How about a "Guberburger," topped with peanut butter and served at the now deceased Wheel Inn Drive-In in Sedalia, MO? Or the "Nutburger" at Matt's in Butte, MT, which has a blanket of chopped salted peanuts mixed with Miracle Whip. How far would you drive for one of those?
Need more ideas? The fun website cheese-burger.net has some tasty combos.
Meathead's favorite combos
Steakhouse Steakburger. Bottomings: 1 tablespoon Meathead's Glop. Toppings: 1/4" slice raw sweet onion (Vidalia, Walla Walla), 1 leaf crunchy iceberg or Romaine lettuce, 1/4" slice wide tomato (only if ripe otherwise skip it), 2 slices of bacon, not too crunchy.
Cheeseburger. Bottomings: 1 tablespoon Meathead's Glop. Toppings: 1/8" slice of cheddar, 2 thick slices of bacon, griddled or caramelized onions.
Did I miss something? Let me know what you like on your burgers by adding your favorite items to the comments at the bottom of the article.