Horseradish, has nothing to do with horses, happily, but it puts a real giddyup in other dishes. It is a white root that looks like a crooked white carrot and has lovely white flowers in spring that smell like, you guessed it, horseradish! Farmers dig it up, clean off the dirt, peel it, and grate it. It has a kick when raw, and my wife's Uncle Carmen, whose family is from Southern Italy, was known to grate it raw on pasta with tomato sauce instead of using hot pepper flakes. It is not at full strength raw, but mix it with a little distilled white vinegar and a pinch of salt and you have the same sinus opening stuff that you can find in the chill chest of the grocery store, all three alarms ringing.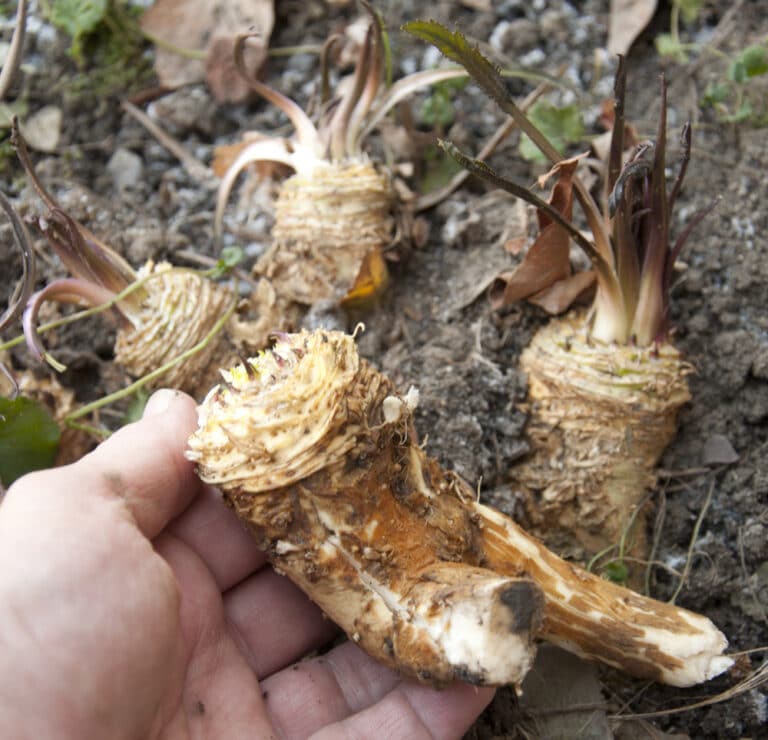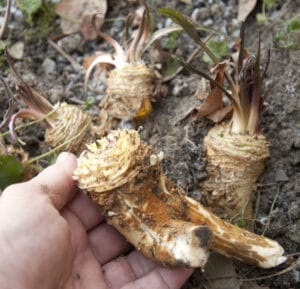 A bit about Secretariat
Secretariat was the greatest horse that ever lived winning 16 of his 21 races. From my couch I watched him win the first Triple Crown in 25 years in 1973. It was breathtaking. He was last coming out of the gate at the Derby and won by 2 1/2 lengths and set the track record of 1:59 2/5, a record that stands as of this writing. At the Preakness he again broke last from the gate, won again by 2 1/2 lengths. The clock malfunctioned, so we can never know for sure how fast he went. The Belmont was breathtaking. It was close at the start, with Sham, second place finisher to Secretariat in both previous races running right with the great one. And then the big chestnut colt kicked in the afterburners and won by an astonishing 31 lengths, running the fastest 1 1/2 miles in history at 2:24, despite not being challenged. The record still stands.
Horseradish puts a real giddyup in dishes like roast beef sandwiches, smoked salmon, and baked potatoes. You can also use it on corned beef and cabbage and its cousin, New England Boiled Dinner. Try it on Baltimore Pit Beef. I love it as a dip for carrots, celery, and potato chips.
Serve with: steaks, roast beef, smoked salmon, and more.
---
---
Makes:
---
Takes:
---
Ingredients
1/4

cup

sour cream

2

tablespoons

prepared horseradish in vinegar

2

tablespoon

milk

1

tablespoon

mayonnaise

1/4

teaspoon

 Morton Coarse Kosher Salt 

2

pinches ground white pepper
Notes:
About the horseradish. If you grow your own, dig out a root or three, wash it well, peel it, grate it fine with a box grater, and mix in distilled white vinegar enough to make it slushy. Add a pinch or three of salt, and let it age in the fridge for a few hours to activate all the flavors.
About the sour cream. You can substitute creme fraiche, heavy cream, or mayo for part of the sour cream.
About the salt.
Remember, kosher salt is half the concentration of table salt so if you use table salt, use half as much. Click here to read more about salt and how it works.
About the white pepper. The sauce looks prettier without black flecks, so that's why I recommend white pepper, but if you don't have it, black pepper works great.
Optional mix-ins. Roast garlic. For serving with fish, add 2 tablespoons chopped fresh dill. For serving with beef add 4 tablespoons chopped chives or green onions.
Metric conversion:
These recipes were created in US Customary measurements and the conversion to metric is being done by calculations. They should be accurate, but it is possible there could be an error. If you find one, please let us know in the comments at the bottom of the page
Method
Prep. If you have raw horseradish root, wash it thoroughly and with a peeler, scrape it until only milky while shows. Then grate it fine or beat the heck out of it in a processor or blender. Add just enough distilled white vinegar to make it slushy and spreadable, and then a pinch of salt to taste. I've tried it with other vinegars and the results are very good, but not as versatile. Let it age a few hours to reach a full gallop.

Mix all the ingredients and taste. Add more of whatever you want. Try to refrigerate for at least 30 minutes to allow them to mingle properly.

Serve. Enjoy the horseradish cream sauce with steaks, smoked salmon, roast beef sandwiches, and so much more.
---