Take a bite of Detroit's most desired hot dog, the Detroit Coney Dog.
Michigan has two famous dogs. Detroit is home of the Detroit Coney Dog, and the northern suburb of Rochester is the home of Leader Dogs for the Blind.
The Detroit Coney Dog is a hot dog with heart. Literally. It's the beef heart that makes the difference. That's the secret ingredient in the pasty chili sauce that crowns the wiener. Leader Dogs is also a heart-warmer. They raise and train hundreds of guide dogs for the blind every year. I have raised five puppies for them and given them their initial training.
The Detroit Coney Dog was created by a Greek sheepherder, Constantine "Gust" Keros in 1917. Soon after clearing Ellis Island he went to Coney Island and tasted a hot dog. Then he went to Detroit to seek his fortune on the auto assembly line. He didn't speak English, so he swept floors until he could afford a popcorn cart, and eventually he opened American Coney Island where he served hot dogs like the one he tasted on Coney Island.
Legend has it that one day a customer asked him to ladle some of his homemade chili onto the hot dog, and the rest is history.
The prototypic Detroit Coney Dog is a pork and beef frank with natural casing, often made by Koegel, top loaded with mustard, then a chili made mostly from beef hearts, and crowned with chopped onions. No beans in the chili. It is served all around the state in restaurants called Coney Islands. No ketchup, and never any cheese. You want that, get a Cincinatti Coney.
If you are in Detroit, check out the original American Coney Island founded by Gust and Lafayette Coney Island founded by his brother, both in downtown Detroit, right next door to each other. If you stand out front looking like you're trying to make up your mind, the staff of one or the other may come out and drag you in. When you order, to get the real deal, make like a Buddhist monk and ask for "one with everything".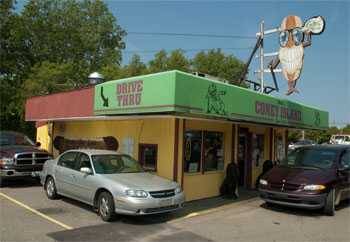 My favorite Coney Island is Walt's, founded in 1936 in Pontiac and now located in nearby Waterford, about midway between Detroit and Flint. The coneys are good, but the atmosphere is great. They have a drive-thru, but you really should go inside. It really is an island of hot doggery, a small building in a big parking lot with great kitchy decorations and mighty fine malted milks, crinkle fries, and of course, sloppy Coneys. The photos here are taken at Walt's.
It is interesting that, with hundreds of Coney Islands in Michigan, there are only two manufacturers that I know of selling frozen Coney Chili, ready to use. Most Coney Islands have their own recipe. Since Gust and many other Coney owners were Greek or Macedonian, theirs has an unmistakable Old World flair to the recipes, with things like cinnamon and oregano.
The Flint Coney. There are two sub-styles of Michigan Coney Chili, Detroit and Flint, the main difference being that the original Detroit style, created by Gust, has a lot of ground beef heart and is pasty in texture while the Flint style is not as wet and occasionally has has ground hot dogs in there. That's right, ground hot dogs!
Here's a recipe for a classic Detroit Coney Dog that I call The Leader Dog in honor of the amazing other dog place in Michigan, just a few miles away. They train guide dogs for the blind, a service I know well since I have raised several puppies for them. Click the link to learn more.
The Detroit Coney Dog is a hot dog with heart. Literally. It's the beef heart that makes the difference. That's the secret ingredient in the pasty chili sauce that crowns the wiener.
Serve with: Vernor's Ginger Soda.
---
---
Makes:
---
Takes:
---
Ingredients
6

pork and beef blended frankfurters with natural casings

6

hot dog buns

1

white onion, chopped fine

Yellow ballpark mustard

1

pound

ground chuck

1/2

pound

ground beef heart

3

tablespoons

all-purpose flour

1

large onion, chopped

1

red bell pepper, chopped

3

garlic cloves

4

teaspoons

American chili powder

1

teaspoon

paprika

1

teaspoon

ground cumin

1

teaspoon

dried oregano

1

teaspoon

 Morton Coarse Kosher Salt 

1/2

teaspoon

finely ground black pepper

1.5

cups

chicken or beef broth

4

ounces

tomato paste

2

teaspoons

cider vinegar

1/2

teaspoon

hot pepper sauce
Notes:
About the franks. Long skinny mostly pork franks are ideal because they usually are not as garlicky and spicy as beef franks, and beef franks just compete with the chili sauce for center stage. I have made this mistake. Koegel, Dearborn, and Kowalski are the local brands. Koegel is a pork and beef mix.
About the beef heart. If you can't find it, or are squeamish about it, just use more ground chuck.
About the salt.
Remember, kosher salt is half the concentration of table salt so if you use table salt, use half as much. Click here to read more about salt and how it works.
Amp it up. Create your own variation by adding these common ingredients: Nutmeg, allspice, cinnamon, mustard, turmeric for color, and basil. Some recipes I've seen use pickle relish. Feel free to use water instead of broth.
Shortcuts. It won't be authentic, but you can leave out the beef heart, the roux, and the blending. Still makes a pretty good topping.
Metric conversion:
These recipes were created in US Customary measurements and the conversion to metric is being done by calculations. They should be accurate, but it is possible there could be an error. If you find one, please let us know in the comments at the bottom of the page
Method
Prep. In a small bowl, mix the American chili powder, paprika, cumin, oregano, salt, and pepper. Mince the garlic.

Cook. In a large skillet over medium-high heat, cook the ground beef and beef heart for 5 minutes or until brown. Crumble it as it cooks so it is brown all over.

Pour the meat into a strainer and drain the fat into a small sauce pan. Discard all but 3 tablespoons of fat. Whisk the fat and flour together over medium heat. This makes a roux. Cook it, stirring frequently, until it turns amber, about 15 minutes. Then whisk in the chicken stock, tomato paste, and vinegar. Let it sit on low a few minutes on low while you handle the next few steps.

Add the onion, garlic, and red bell pepper to the ground meat in the skillet and cook for another 5 minutes.

Push everything aside and add the spices and cook in contact with the bottom of the pan for 2 minutes, stirring so the spices don't stick to the bottom. This "blooms" the flavor. Then mix them in with the meat.

Add the roux mix ingredients and stir it in. Simmer for at least 15 minutes, an hour is better.

Pour 1/3 the mix into your blender and puree it until it is pasty, and mix it back in. If you prefer you can use a stick blender to get the mix thick. Taste and add more of whatever you want.

Split the frank down the middle but don't cut it in half. Leave a hinge. This step is controversial. Some locals hate the concept. I like it because it creates more browned meat, and browned meat is better than chocolate. On a griddle, in a frying pan, or better still, on your grill, grilling the frank until it starts to brown on all sides. Steam the bun.

Serve. Put the frank on the bun, split side up. Squirt a line of mustard down its length. Spoon on a generous amount of Coney saucce, and top with the chopped onions. Serve with Vernor's.
---