If you're a fan of classic New York hot dogs with their signature onion sauce then you'll love this recipe and how-to.
The story of the spread of the hot dog across the land has a common theme. It starts at Ellis Island in New York with immigrants in the late 1800s and early 1900s and moves to Manhattan where European sausage makers, especially Germans, Austrians, Poles, and especially Jews from all over Europe, brought their skills and recipes and started life on a shoestring selling Frankfurt and Vienna sausages on street corners and in butcher shops.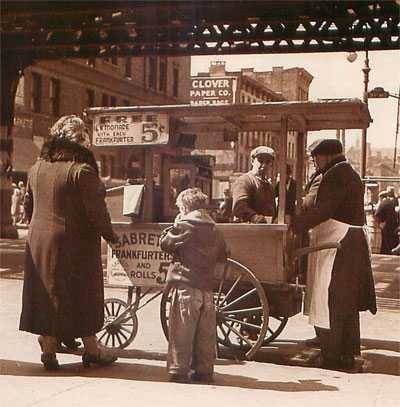 Waves of Greek and Macedonian immigrants also appeared on our shores. They found backbreaking work in construction and other hard labor building the growing metropolis, and on rare days off they took their families on the trolley to Coney Island, the great seaside amusement park about 15 miles (24.1km) southeast of Midtown. There they tasted the Coney Island version of the hot dog, loved it, migrated west where they set up shop on street corners, developed their signature recipe, and with hard work and ingenuity opened a restaurant, then a small chain, and made a good living for themselves and their families. For them, especially Jews and Greeks, the American Hot Dog became The American Dream.
The Coney Island Hot Dog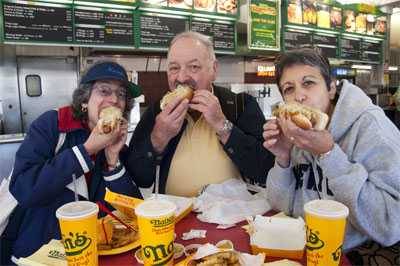 Today, Nathan's Famous, founded in 1916 by Polish immigrant Nathan Handwerker, reigns over Coney Island and sets the standard for the New York Deli Dog: An all-beef frank wrapped with a snappy natural casing, cooked on a flatiron griddle, dressed with spicy brown mustard, sauerkraut, and griddled onions. That's all. No relish, chili, onions. Nuttin' else. Tourists may order chili or ketchup or relish, but not purists.
One expert, Professor Bruce Kraig, author of Hot Dog, A Global History, says there may be as many as 5,000 pushcarts in Manhattan, most of them selling hot dogs. A few serve Nathan's or Hebrew National, but chances are, even the places that claim they have their own franks custom made, it's a Sabrett. In Manhattan, Sabrett is the iconographic pushcart food with it's yellow and blue umbrellas and it is also ubiquitous.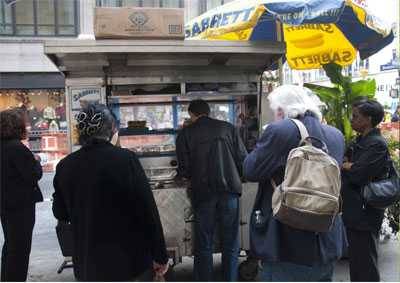 Sabretts are a garlicky all-beef frank in natural casing (they are available skinless, but I like the snap of the skin). They are served with mustard and warm sauerkraut, like the Coney Island Hot Dog, but Sabretts have a rich orange colored sweet-tart onion sauce. By itself, the onion sauce is nothing special. But with the mustard and kraut, it is the perfect balancer. If you've had a hot dog in Manhattan with onion sauce, chances are you've had Sabrett's Prepared Onions invented by Alan S. Geisler, an MIT-trained food technologist who died January 6, 2009 at the age of 78. They are made at the factory in New Jersey and warmed in the carts.
The exact recipe is a secret, so I have attempted to reverse engineer it and, of course I couldn't help but fiddle with it (I'm sure the original doesn't have balsamic vinegar in it). If you prefer you can order the real thing online from Sabrett. But frankly (sorry), I like my recipebetter.
Amazingly, Papaya juice goes remarkably well with the Sabrett prep, accounting in part for the amazing popularity of Papaya King and Gray's Papaya, both hot dog stands, not health food emporia, and both griddling Sabretts.
Make your own New York style hot dog at home, featuring an all-beef frank wrapped with a snappy natural casing, cooked on a flatiron griddle, dressed with spicy brown mustard, sauerkraut, and griddled onion sauce.
Serve with: a tropic fruit drink like that found at New York's Gray's Papaya or Papaya King.
---
---
Makes:
---
Takes:
---
Ingredients
½

cup

water

1

teaspoon

cornstarch or arrowroot

1

tablespoon

tomato paste

1

tablespoon

inexpensive balsamic vinegar

1

teaspoon

Dijon-style mustard

1

teaspoon

brown sugar

¼

teaspoon

hot pepper sauce

1

pinch of cinnamon

1

tablespoon

olive oil

2

large red onions, peeled thoroughly and sliced thin

½

teaspoon

 Morton Coarse Kosher Salt 

2

garlic cloves

4

all-beef frankfurters, preferably Sabretts

4

buns

Sauerkraut from the refrigerator section, not the can

Spicy brown Dijon-style mustard
Notes:
About the onions. Red onions often have an extra layer of tough paper under the outer layer. Make sure you remove it.
About the tomato paste. If you want, you can substitute a 2 tablespoons of ketchup or a sweet tomato based Kansas City style barbecue sauce for the tomato paste.
About the salt. Remember, kosher salt is half the concentration of table salt so if you use table salt, use half as much. Click here to read more about salt and how it works.
Metric conversion:
These recipes were created in US Customary measurements and the conversion to metric is being done by calculations. They should be accurate, but it is possible there could be an error. If you find one, please let us know in the comments at the bottom of the page
Method
Prep. Combine the water and cornstarch in a bowl and whisk it until there are no more lumps. whisk in the tomato paste, balsamic, mustard, brown sugar, hot sauce, and cinnamon. Also mince or press the garlic.

Cook. Warm the oil in a large skillet, not a non-stick, over medium high heat. Add the onions and sprinkle with the salt. This helps pull the moisture out. Move them around occasionally with a wooden spoon so they don't burn. Cook until the edges start to brown. Whatever you do, do not let them burn. Add the garlic and cook for another minute.

Add the liquid, stir, and rub the pan with the wooden spoon to scrape up all the flavorful fond, the brown bits on the bottom. Turn the stove to low and simmer with the lid on for 1 hour. Check frequently to make sure it is not burning and the water has not evaporated. Add water if needed. The final result should be thick, not runny, but not pasty. After an hour, taste and adjust salt and other flavors as you wish.

Serve. Lovingly place the frank on the bun, squirt on the mustard, add the onions, and then the kraut. Hum quietly, I'll take Manhattan...
---