Kick up your comfort food with our smoked mac-and-cheese recipe.
Like meatloaf, grilled cheese, and tomato soup, mac-and-cheese is one of those dishes that immediately envelops many people in warm, comforting embrace of nostalgia.
For years, my relationship with this simple, yet hearty, dish was limited to that unnamed boxed food product featuring the day glow orange "cheese" powder. It wasn't until I tasted the real stuff that my love affair with mac-and-cheese truly began. Perfectly cooked pasta was bathed in a blend of creamy sharp cheddar and Colby cheeses and topped with crunchy, buttery breadcrumbs.
In my mind there was nothing that could make this grilling main course or side dish more perfect…that is, until it hit the grill. Baked over live fire with just the right amount of smoke, the end result is a smoked mac-and-cheese that you'll dream of for days to come.
While you could take this recipe one step further by blending in pulled pork, brisket, grilled lobster, or other proteins prior to baking, I think you'll find that it stands up just fine on its own! In fact, the first time I served it, my vegetarian (aaargh!) daughter was convinced that I had packed it full of bacon due to its subtle BBQ smokiness.
Smoked Mac and Cheese Recipe
This all-American comfort food is great any time when made with real ingredients and grilled.
Course. Brunch. Lunch. Dinner. Casserole. Entree. Side Dish.
Cuisine. American.
Makes. 8 to 10 servings
Preparation time. 20 minutes
Cooking time. 40 minutes
Serve with. A pale ale.
Special tools. A 3-quart casserole dish and non-stick cooking spray.
Ingredients
Mac and Cheese
1/4 cup unsalted butter
1/4 cup flour
2 cups milk
2 cups grated sharp cheddar
2 cups grated Colby cheese
1 teaspoon Morton kosher salt (read more about the science of salt here)
1/2 teaspoon ground black pepper
1 16-ounce package elbow macaroni
1 teaspoon finely chopped parsley (optional)
Topping
1 cup Panko bread crumbs
3 tablespoons butter, melted
Method
1) Prep. Prepare the elbow macaroni according to instructions, preferably al dente (tender but firm).
2) Melt the butter in a large saucepan over medium heat. Add the flour to the butter and whisk until smooth. Slowly add the milk, stirring constantly until fully incorporated.
3) Reduce the heat to low and add the cheese, salt, and pepper to the saucepan. Continue to stir the mixture until the cheese has melted. Add the cooked pasta to the saucepan and stir until the pasta is completely coated with the cheese sauce. Remove the saucepot from the heat.
4) In a small bowl, toss the Panko breadcrumbs with the melted butter.
5) Coat the inside of a 3-quart casserole dish with non-stick cooking spray. Pour the mac-and-cheese into the casserole dish and spread it out evenly. Top the mac-and-cheese with the Panko breadcrumbs.
6) Fire up. Prepare a grill for direct cooking by evenly spreading a chimney full of pre-heated charcoal briquets across the grill's charcoal grate. Add 2 to 3 chunks of your favorite smoking wood to the charcoal for flavor. Adjust the grill vents to bring the temperature to about 350°F. On a gas grill, adjust the temperature knobs to maintain a temperature of approximately 350°F. Add wood to the gas grill according to our recommendations here.
7) Cook. Set the casserole dish in the center of the grill's main cooking grate. Cover the grill.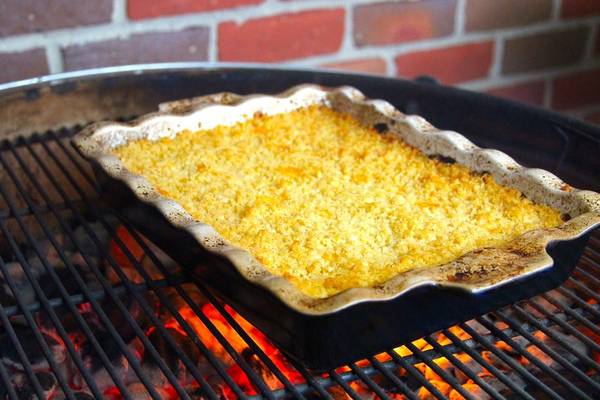 8) Allow the mac-and-cheese to smoke until bubbly and golden brown, approximately 40 minutes.
9) Serve. Remove the smoked mac-and-cheese from the grill. Garnish with chopped parsley (optional) and serve immediately.
Nutrition Facts
0 servings per container
Calories per serving

428

% Daily Value*
Total Fat 21 g
32 %
Saturated Fat 13 g
63 %
Trans Fat 0 g
Cholesterol 57 mg
19 %
Sodium 338 mg
14 %
Total Carbohydrate 44 g
15 %
Dietary Fiber 2 g
7 %
Total Sugars 4 g
Includes - Added Sugars
Protein 16 g
32 %
| | |
| --- | --- |
| Vitamin D 1 µg | 7 % |
| Calcium 300 mg | 30 % |
| Iron 1 mg | 5 % |
| Potassium 210 mg | 4 % |
*Percent Daily Values are based on a 2,000 calorie diet.
"I'm very loyal in a relationship. Any relationship. When I go out with my mom, I don't look at other moms and go, "I wonder what her macaroni and cheese tastes like."Garry Shandling
Published On:
03/05/2018
Last Modified:
01/18/2021