Egg salad is an old standard. But you can amp it up to 11 with my Mayo Mojo spice mix and smoked eggs. Yes, you can smoke an egg! The shells are porous and although large smoke particles can't get in, combustion gases can. Another option is to smoke a peeled hard boiled egg.
Here are some raw eggs I smoked:
And here is what one looks like after peeling: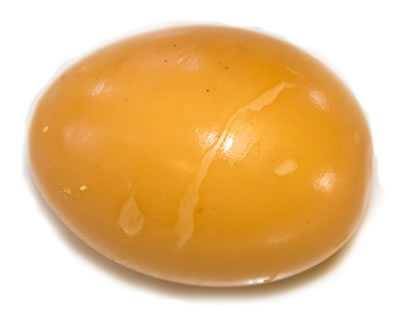 Egg Salad Recipe
You're not going to believe the difference in the egg salad when made with, YES, smoked eggs and secret sauce.
Makes. Enough for 2 big sandwiches
Preparation time. Smoking the eggs will take about an hour, preparing the flavored mayo will 15 minutes to put together and 2 hours minimum to age, and assembling the ingredients 5 minutes.
Ingredients
4 raw eggs
1 tablespoon Mayo Mojo
2 tablespoons mayonnaise
2 teaspoons sweet pickled relish
2 green onions, sliced crosswise into small bits
Method
1) Mix together the Mayo Mojo and the mayo and let them marry flavors in the fridge for at least two hours. Don't rush this.
2) Smoke the raw eggs by putting them into a smoker at 225°F for an hour or on the indirect zone of a smoky grill. Then drop them in cold water with some ice. When the eggs have cooled, cut them into little slivers or cubes. I use an egg slicer and cut them lengthwise then again crosswise to make little matchsticks.
3) Mix the flavored mayo with the relish, green onions, and the eggs.
3) I like to toast some rye bread, load on the eggs, and then top with lettuce and tomato.