Bring the heat with these homemade pickled jalapeño slices.
There are two kinds of "Cowboy Candy" and this easy recipe is not for chaw. This is a sweet/sour pickled pepper that is great as a relish on hot dogs, burgers, cold cut sandwiches, pulled pork, coleslaw, potato salad, on grilled cheese sandwiches, on Italian beef and Italian Sausages, or mixed in with your cornbread. Take a block of cream cheese and cover the top with these tasty rings and serve with crackers as an appetizer.
Pleasantly the heat is diminished by the cooking process, so the results are not as hot as you might fear. This recipe is a refrigerator pickle, so all jars must be stored in the fridge. When you are done, save the syrup. You'll find a use for it in sauces like DC Mumbo sauce, barbecue sauce, cocktails, and more.
Pickled Jalapeños Recipe
Add some sweet heat to sandwiches, favorite side dishes, cornbread, and much more for this recipe for Cowboy Candy, a.k.a. candied jalapenos. This recipe is a refrigerator pickle, so all jars must be stored in the fridge. When you are done, save the syrup: it's got so many uses.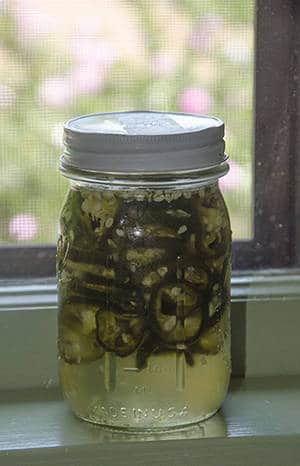 Course. Appetizer. Sauces and Condiments. Side Dish. Snack. Vegetable.
Cuisine. American.
Makes. 12 ounce bottle
Takes. 15 minutes for prep, and 25 to 30 minutes to cook
Ingredients
2 cups white granulated sugar
1/2 cup water
2/3 cup distilled vinegar
3/4 pounds fresh green jalapeños, washed thoroughly
Special hardware. You will also need a clean 12 ounce jar with a lid.
About the jalapeños. You can use any chile pepper you wish, hotter of less hot. Click here to see your options.
About the vinegar. It is better with white vinegar than with cider vinegar. Click here for more about vinegars.
Method
1) Prep. Wear disposable gloves when cutting and handling hot peppers and safety glasses are not a bad idea. Think you're a tough guy and don't need the protection? Do it barehanded and then go take a leak. Then, while you're crying, wipe your eyes. But for goodness sake, don't make love for 24 hours unless you've worn gloves. Once your protection is in place, cut off the top stem. Slice them into 1/8" rings unless you are afraid they will be too hot. In this case, get a knife and reach down into the pepper with it and scrape off the white veins that hold the seeds (right). These veins also hold most of the heat. The seeds have some of the capsaicin, but not as much. Then rinse out the cavity and slice into 1/8" rings.
2) Cook. Cook the water, sugar, and vinegar in a saucepan over medium heat until it boils and stir until all the sugar has dissolved.
3) Before you proceed, beware. When you add the peppers to the hot syrup they will off-gas capsaicin, a.k.a. pepper spray, almost the same stuff the riot control police use. Please do not hover over the pan, and remember to turn on the overhead fan on your stove. Now add the peppers and the liquid will stop boiling. Wait for it to boil again and turn it off after about 20 seconds. This will pasteurize the peppers. If you wish, leave it boil longer to reduce the spiciness. While it is hot, use a slotted spoon to move the peppers into a very clean 12 ounce jar. Pack them in tight and pour in the syrup. Poke around with a fork until most of the air is gone, tighten the lid, and refrigerate. Keep refrigerated.
4) Serve. After 2 days the pickled jalapenos will start losing the bright green color and the peppers and the syrup will swap their fluids. You can dig in then, but if you wait a week, you will be rewarded for your patience. Serve on burgers, nachos, crackers, and so much more.
"The Cowboy must never shoot first, hit a smaller man, or take unfair advantage."Gene Autry
Published On:
02/28/2016
Last Modified:
03/17/2019