Bring the heat with these homemade pickled jalapeño slices.
There are two kinds of "Cowboy Candy" and this easy recipe is not for chaw. This is a sweet/sour pickled pepper that is great as a relish on hot dogs, burgers, cold cut sandwiches, pulled pork, coleslaw, potato salad, on grilled cheese sandwiches, on Italian beef and Italian Sausages, or mixed in with your cornbread. Take a block of cream cheese and cover the top with these tasty rings and serve with crackers as an appetizer.
Pleasantly, the heat is diminished by the cooking process, so the results are not as hot as you might fear. This recipe is a refrigerator pickle, so all jars must be stored in the fridge. When you are done, save the syrup. You'll find a use for it in sauces like DC Mumbo sauce, barbecue sauce, cocktails, and more.
How this recipe got its name
When I was a boy, one of my heroes was Gene Autry, the Singing Cowboy, and I was nuts about his horse Champion. So I have named my Cowboy Candy recipe after the world's smartest horse.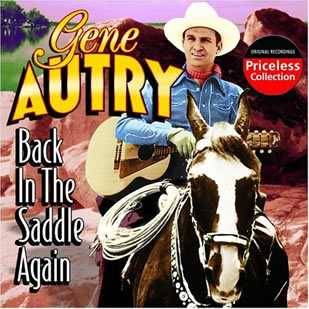 He made himself a household name starring on radio in the 1930s and 40s, in movies in the 40s and 50s, and on television in the 1950s. He made 640 recordings, including more than 300 songs written or co-written by him. His records sold more than 100 million copies and he has more than a dozen gold and platinum records, including the first record ever certified gold. His Christmas and children's records Here Comes Santa Claus (Right Down Santa Claus Lane) and Peter Cottontail are among his platinum recordings. His version of Rudolph the Red-Nosed Reindeer, is the second all-time best selling Christmas single. But my favorite, as a kid who wore a cowboy hat and chaps everywhere, was Back in the Saddle Again. In 1961 he bought the California Angels baseball team.
Gene Autry's Cowboy Code
The Cowboy must never shoot first, hit a smaller man, or take unfair advantage.
He must never go back on his word, or a trust confided in him.
He must always tell the truth.
He must be gentle with children, the elderly, and animals.
He must not advocate or possess racially or religiously intolerant ideas.
He must help people in distress.
He must be a good worker.
He must keep himself clean in thought, speech, action, and personal habits.
He must respect women, parents, and his nation's laws.
The Cowboy is a patriot.
Like what you're reading? Click here to get Smoke Signals, our free monthly email that tells you about new articles, science, recipes, product reviews, mythbusting, and more. Be Amazing!
Add some sweet heat to sandwiches, favorite side dishes, cornbread, and much more for this recipe for Cowboy Candy, a.k.a. candied jalapenos. This recipe is a refrigerator pickle, so all jars must be stored in the fridge. When you are done, save the syrup: it's got so many uses.
---
---
Makes:
one 12-ounce jar
---
Takes:
---
Ingredients
¾

pounds

fresh green jalapeños

2

cups

white granulated sugar

⅔

cup

distilled vinegar

½

cup

water
Metric conversion:
These recipes were created in US Customary measurements and the conversion to metric is being done by calculations. They should be accurate, but it is possible there could be an error. If you find one, please let us know in the comments at the bottom of the page
Method
Prep. Thoroughly wash the jalapeños. Wear disposable gloves when cutting and handling hot peppers and safety glasses are not a bad idea. Think you're a tough guy and don't need the protection? Do it barehanded and then go take a leak. Then, while you're crying, wipe your eyes. But for goodness' sake, don't make love for 24 hours unless you've worn gloves. Once your protection is in place, cut off the top stem of each pepper then slice them into ⅛ inch rings, unless you are afraid they will be too hot. In this case, get a knife and reach down into the pepper with it and scrape off the white veins that hold the seeds (right). These veins also hold most of the heat. The seeds have some of the capsaicin, but not as much. Then rinse out the cavity and slice into ⅛ inch rings.

Cook. Cook the sugar, vinegar, and water in a saucepan over medium heat until it boils and stir until all the sugar has dissolved. I do the cooking on my grill or the side burner. It can really fill the house with pepper gas.

Before you proceed, beware. When you add the peppers to the hot syrup they will off-gas capsaicin, a.k.a. pepper spray, almost the same stuff the riot control police use. Please do not hover over the pan, and remember to turn on the overhead fan on your stove. Now add the peppers and the liquid will stop boiling. Wait for it to boil again, then turn it off after about 20 seconds. This will pasteurize the peppers. If you wish, leave it boil longer to reduce the spiciness. While it is hot, use a slotted spoon to move the peppers into a very clean 12 ounce jar. Pack them in tight and pour in the syrup. Poke around with a fork until most of the air is gone, tighten the lid, and refrigerate. Keep refrigerated.

Serve. After 2 days the pickled jalapenos will start losing the bright green color and the peppers and the syrup will swap their fluids. You can dig in then, but if you wait a week, you will be rewarded for your patience. Serve on burgers, nachos, crackers, and so much more.
---