Who doesn't love crispy chicken skins?
But sometimes the chicken is best cooked without the skins. There are a lot fewer calories in skinless chicken, and it's hard to keep them intact when you pound chicken breasts flat, for example. It's also hard to make them crispy if you marinate the chicken as in my Buxom Chicken Breasts or Cornell Chicken.
Like much else on the chicken, skins are mostly water, not fat. There is a lot of fat in chicken skin, and a layer of fat underneath, and skins are packed with flavor and it's a doggone shame to chuck them out, especially since they are so easy to make.
So I make cracklins from them and sprinkle them back on the dish as a garnish. If you make them properly, they are crispy and crunchy like potato chips, and they're just as good as bacon bits on a salad, on a chicken breast sandwich, on pulled chicken, on pasta, use your imagination.
Chicken skin bacon
At Lillie's Q in Chicago, one of my favorite BBQ restaurants in the country, Chef Charlie McKenna uses his imagination a lot. For example, he smokes chicken, removes the seasoned skin, breads the chicken meat, and fries it.
Like me, he didn't like discarding the skins, especially since they had all that rub and smoke flavor. So he came up with a clever idea. He took the skins, placed them between two baking pans, put the pans in the oven, and roasted until crispy. McKenna calles the crunchy skins chicken bacon and serves it on a BLT.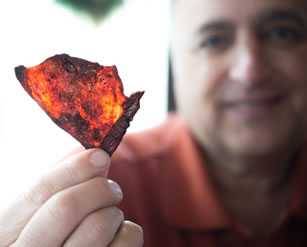 You don't have to use smoked chicken, any skins will do. Just be careful, they burn easily. I recommend cooking them at 325°F, and yes, you can use your grill as an oven, just cook them with indirect heat. That's what a piece of chicken bacon looks like at left, and no that's not Chef McKenna.
Scmaltz & Gribenes
No, this is not a law firm. Schmaltz is the Yiddish term for rendered chicken fat and it was commonly used as a cooking fat in Eastern Europe. Render the skins and subcutaneous fat, drain off the schmaltz, take the cracklins that are left behind, add in some onions and fry them together with a little schmaltz, and you have gribenes, a peasant delicacy for the hearty farm worker.
How to make poultry skin cracklins
1) Remove the skins from your turkey, chicken, or duck. Turkey skins are thin with little fat underneath, chickens have a bit more subcutaneous fat, and duck has a lot of fat. Cut the skins into squares or strips about 1" long and 1/2" wide.
2) Roasting method. Preheat your smoker or set up your grill for 2-zone indirect cooking and get the air temp in the indirect zone to about 325°F. Spread the skins onto a flat pan like a cookie sheet, sprinkle them with salt, not too much, and place them in the indirect heat for about until they are crispy. Turkey will take about 30 minutes, chicken 45 minutes, duck an hour or more. Your time will vary depending on the amount of fat on the bird. If you wish to add wood and flavor them with smoke, go for it. You can even do this in you indoor oven.
Frying pan method. Cover the bottom of a frying pan with about 1/4" of water and add the skins. Heat until it simmers gently but does not boil. Add the skins. It is important that you do not cook too hot or they will burn and spatter all over the place. Wear a shirt. Stand by the pan and stir the skins every three minutes or so until the water evaporates. Pour off the fat and save it. Continue cooking over low until the skins are golden. Scoop them out and place them on a double layer of paper towels to drain, and while they're hot, sprinkle on some salt.
Try not to eat them all immediately, OK?