We dare you to eat just one of these delicious smoked bacon wrapped meatballs, affectionately known as MOINK balls.
Popularized several years ago by my brother in smoke, Larry Gaian, MOINK balls are the tasty combination of beef (moo) and pork (oink) in the form of frozen beef meatballs wrapped in bacon then smoked to perfection. So simple, and so good! Brush them with a little BBQ sauce and you're good to go!
Note that while you can make your own meatballs, Larry's original recipe keeps it simple (stupid) with the precooked frozen variety. For my version, I modify commercial BBQ sauce with the addition of cherry juice for fruitiness, a little squeeze butter for richness, and chipotle powder for smokiness. The result? One of the easiest, most crowd pleasing BBQ and grilling appetizers ever for any couchgating, tailgating, or backyard bash.
Smoked Bacon Wrapped Meatball (MOINK Balls) Recipe
In this flavor packed MOINK ball recipe, frozen beef meatballs are wrapped in bacon then smoked for one of the simplest, yet crowd pleasing BBQ and grilling appetizers.
Course. Appetizer. Side Dish. Snack.
Cuisine. American.
Makes. 36 MOINK balls
Takes. 15 minutes prep. 35 minutes cooking.
Serve with. Sam Adams Cherry Wheat
Ingredients
Moink Balls
36 frozen beef meatballs, thawed
12 slices bacon
1/4 cup of your favorite BBQ dry rub, such as Meathead's Memphis Dust
Cherry Chipotle BBQ Sauce
1 (18 ounce) bottle BBQ sauce, such as KC Masterpiece
1/4 cup cherry juice
2 tablespoons Parkay® squeeze margarine
1/4 teaspoon chipotle powder
About the Squeeze Margarine. Adding butter is a great way to add richness to a sauces, though we use liquid margarine in this recipe as it remains smooth and silky when the sauce cools versus traditional butter that solidifies. If you have an adversion to maragrine, feel free to leave it out or replace it with butter and keep the sauce warm.
Method
1) Fire up. Prepare a smoker for indirect cooking. Alternatively, you can set up a charcoal grill for 2-zone cooking by placing a chimney full of pre-heated charcoal briquets on one side of the grill's charcoal grate in order to create direct and indirect cooking zones. Adjust the smoker or grill vents to bring the temperature to about 325°F and add 2 to 3 chunks of your favorite smoking wood to the charcoal for flavor. On a gas grill, adjust the temperature knobs so that one half of the grill is off and the other half is heated enough to maintain a temperature of approximately 325°F on the indirect side.
2) Prep. Cut the bacon slices into thirds and wrap each meatball with bacon. Secure the bacon with toothpicks then dust the meatballs with the BBQ dry rub seasoning. Place the MOINK balls on the cool side of the grill, cover, and allow them to cook until the bacon is browned and crisp, approximately 35 minutes.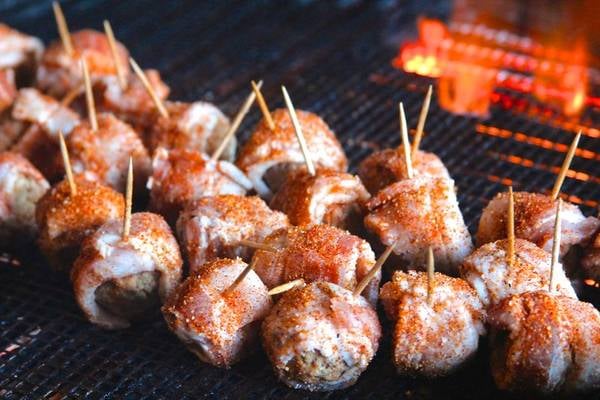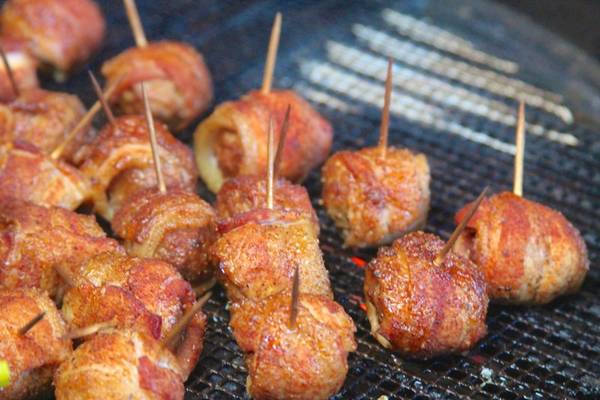 3) As the MOINK balls smoke, combine the BBQ sauce and cherry juice in a small saucepan and simmer over medium-low heat until the cherry juice has reduced and the sauce has thickened, approximately 10 minutes. Stir in the margarine and chipotle powder.
4) Remove the MOINK balls from the grill. Pour the sauce into a medium sized bowl and use the toothpicks to dip the meatballs into the sauce.
5) Serve. Plate the MOINK balls and serve immediately.
"Life expectancy would grow by leaps and bounds if green vegetables smelled as good as bacon."Doug Larson
Published On:
03/27/2018
Last Modified:
02/08/2021