Why Fry Inside? Your Outdoor Grill Handles the Job Better and Makes Incomparable Fried Pickles.
I first encountered deep fried pickle slices as part of an appetizer combo for the whole table at a local pub. I wasn't quite sure what to expect. It was, however, love at first bite as the crunchy golden brown breading gave way to the juicy, salty goodness of the pickle slice inside.
Spotlight on our favorite products
Bring The Heat With Broil King Signet's Dual Tube Burners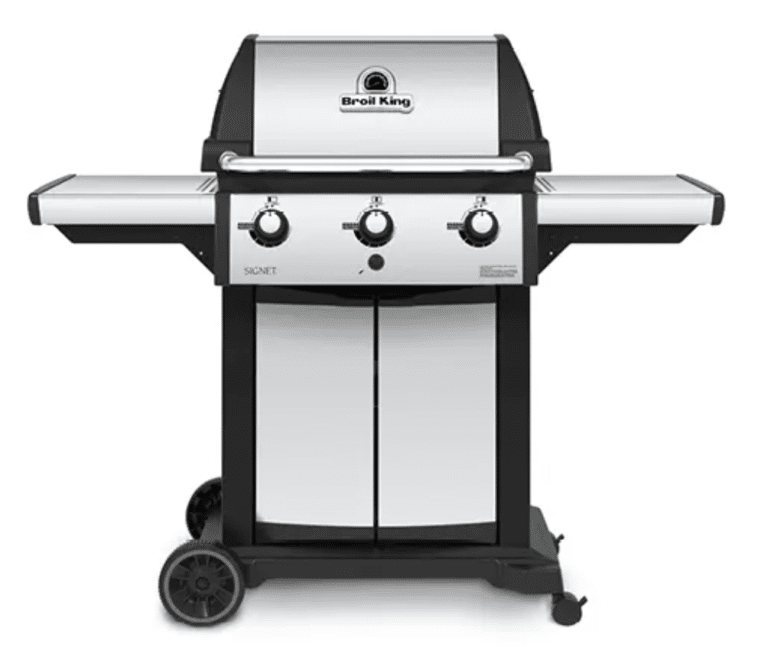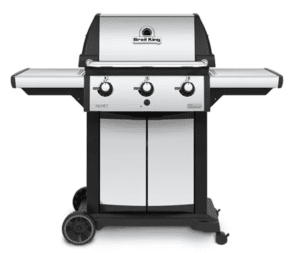 The Broil King Signet 320 is a modestly priced, 3-burner gas grill that packs a lot of value and power under the hood including dual-tube burners that are able to achieve high, searing temps that rival most comparatively priced gas grills. Click here to read our complete review.
– THIS IS NOT AN AD –
It wasn't long before I tried making them at home using one of our current favorite "how to" techniques at AmazingRibs.com: grill frying. Deep-frying the pickles on the grill avoids the mess and lingering "fried food" smell when you deep-fry indoors. A little grease splatter on the grill? Who cares! Our easy tempura batter makes the whole dipping and frying process a snap, and creamy, spicy Sriracha ranch dipping sauce perfectly complements the crunchy fried pickles. Need a novel appetizer for your next cookout? This one will have everyone clamoring for more.
We'll bet you can't stop at just one of these salty deep fried pickle chips, prepared on the grill for less mess.
Serve with: a pale ale.
---
---
Makes:
---
Takes:
---
Ingredients
Sriracha Ranch Dipping Sauce
1/4

cup

bottled ranch salad dressing

1

tablespoon

Sriracha sauce

(or more if you like it real spicy)
Deep Fried Pickles
16

ounce

jar dill pickle slices

(a.k.a. hamburger slices, pickle chips)

1/2

batch Easy Tempura Batter, prepared according to directions

Oil for frying
Metric conversion:
These recipes were created in US Customary measurements and the conversion to metric is being done by calculations. They should be accurate, but it is possible there could be an error. If you find one, please let us know in the comments at the bottom of the page
Method
Prep. Prepare the Sriracha ranch dipping sauce by combining the Sriracha and the ranch dressing in a small bowl. Blend well then refrigerate the sauce until ready to serve.

Drain the pickle slices, reserving the liquid for future uses (for example, pickle juice is an easy and flavorful brine. It has been suggested that this is the secret to Chick-fil-A's delicious fried chicken).

Fire up. Add 1 inch (25.4 mm) of oil to a heavy pot or cast-iron Dutch oven, place it on the grill, and preheat the oil to 375°F (190.6°C). This technique is referred to as grill frying and is a great way to avoid the smells and mess associated with deep-frying indoors.

Prep again. Once the oil is ready, drop the pickle slices in the easy tempura batter and stir until each pickle slice is fully coated.

 Cook. With tongs, pull the pickle slices out of the batter, allowing some of the excess batter drip off before gently slipping them into the oil. Try to cook pieces of similar thickness together so they are done at the same time. Do not crowd the pot or the oil temperature will drop too low and the pickles might stick together. Try to keep the oil temp between 325°F (162.8°C) and 350°F (176.7°C). Flip the battered pickle slices often and fry until the batter is golden brown, approximately 2 to 3 minutes per batch. When they are done, lift the pickle slices out of the oil with tongs or a spider strainer. Spread the deep fried pickle slices on paper towels to drain.

Serve. Plate the tempura battered pickles and serve immediately with the Sriracha ranch dipping sauce.
---