Every day is St. Patrick's day when you've got this classic duo.
Corned Beef And Cabbage is the tradition on St. Patrick's Day, an event that, to me, is more about our common immigrant stories that about being Irish. Irish Americans share their remarkable tale with Jews, Italians, Germans, Cubans, and Mexicans, and so many others. So many of us can trace our heritage to fearful, ragged, tired, and poor arriving on our shores with not much more than the clothes on their back, life in hovels, hard labor, discrimination, acclimation, acculturation, and success. That's why we are all Irish in some way.
Surprisingly, Corned Beef And Cabbage is not a tradition in Ireland. It is an Irish-American-Jewish tradition. Corned pork and cabbage is more common in the Emerald Isles where beef was scarce and expensive. But Irish immigrants in the US found beef more plentiful in their lower Manhattan ghettos where the butchers were mostly kosher Jews and pork was verboten.
In diners, slang between waitress and cook, the dish is called jiggs. In some quarters the dish and variations is called New England Boiled Dinner. Corned meat is meat that has been pickled in a strong brine or salty rub with sodium nitrite. If it says "uncured" don't be fooled. The celery extract in there is loaded with nitrite. It is usually simmered and the salt in the water can be used to enhance potatoes, carrots, cabbage, turnips, etc.
Traditional on St. Patrick's Day, it is a shame the dish not served more often, and my guess is that is because people just take the meat out of the wrapper and throw it in a pot with water and veggies and potatoes and they feel they have met their obligation. But everything is soooooo salty, the meat is tough and fatty, and the veggies and potatoes are mushy.
Corned beef comes in two forms
Uncooked corned beef is usually a hunk of beef that is in a brine solution of curing salts, regular salt, and pickling spices. It is then packaged in a sturdy plastic bag with some of the brine. It is very salty and has not been cooked.
Cooked and ready to eat corned beef is cured in a brine with curing salts, regular salt, and pickling spices, then cooked, and usually packaged in slices or sliced at the deli counter. Just open the package and eat.
There are three popular cuts: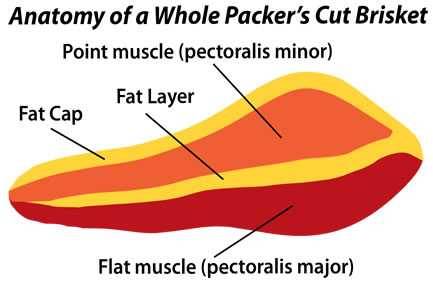 Whole packer is a massive slab 10 to 18 pounds (4.5 to 8.2 kg). You rarely find them corned.
Flat, which is flat, lean, evenly striated and it makes for perfect slices. But it can be tough because it has little marbling. Typically 3 to 5 pounds (1.4 to 2.3 kg).
Point, which is a second muscle on top of the flat that has better marbling and therefore richer flavor, fuller mouthfeel, and is more tender. It is usually sitting on top of a layer of flat with a fatty layer in between. Typically 3 to 5 pounds (1.4 to 2.3 kg).
Corned Beef And Cabbage is the tradition on St. Patrick's Day. But don't just throw it all in a pot and let it boil. Here's how to do the dish properly. If you have leftovers, make Rockin' Reuben Sandwiches, Corned Beef Hash, or throw it on your smoker and make my Close To Katz's Pastrami. But if you do it right, there won't be leftovers.
---
---
Makes:
---
Takes:
---
Notes:
A good idea. While the meat is cooking, mix up some of my Secretariat Horseradish Sauce and refrigerate for at least two hours to let the flavors marry. Serve it on the side as a dipping sauce. Optional. You can add an onion and garlic and in Eastern Europe, caraway seeds are popular.
Metric conversion:
These recipes were created in US Customary measurements and the conversion to metric is being done by calculations. They should be accurate, but it is possible there could be an error. If you find one, please let us know in the comments at the bottom of the page
Method
Prep. Peel the carrots and cut into 1-inch (2.5-cm) pieces. Clean the potatoes and cut into 2-inch (5.1-cm) chunks. Remove the outer leaves from the cabbage and cut into quarters.

If you are using store bought corned beef, open the cryovac and dump out all the liquid. If you have made your own corned beef (and you should, it is better than store-bought, click here for the recipe), remove it from the curing liquid.

Rinse the corned beef thoroughly. Some packages have some pickling spices in a packet. They can't flavor the meat but they can flavor the veggies. Some cuts have a thick layer of fat on the surface of one side, called a fat cap. Trim it all off. This fat is not like marbling in beef. It cannot penetrate the meat and it brings nothing to the party but calories and it just makes scum. If you bought the point section of a brisket, there is probably a layer of fat on top of a layer of meat, then another layer of fat, and finally another layer of meat. Trim off the surface fat and leave the center fat layer intact. It will be easy to remove after it is cooked.

Cook. Place the meat in a large pot along with enough hot water to cover it by at least 1" (2.5 cm) and put the lid on. Turn the heat to medium low, bring it to a simmer at about 190°F (87.8°C) and keep it there for 30 minutes. If you boil it, it will shrink and squeeze out the moisture. Yes, you can make dry meat in a pot of water if you cook it too hot! Beware that the meat is cold, so when it warms the water will slowly move from simmer to boil. Keep an eye on it and try not to let it boil.  

After 30 minutes of simmering, dump out the water and cover the meat with fresh hot water, again about 1" (2.5 cm) above the meat. We do this to remove some of the salt from the curing process. You want salt, but not too much. Bring to a low simmer again, this time cooking for 3 hours or until it is about 190°F (87.8°C) in the center and fork tender. Some really cheap cuts will never get tender (and that's why it is best to make your own). Keep the meat submerged even if you have to weight it down with a small plate.

About 1 hour before dinnertime, add the carrots and potatoes. If you want, add the spices now. They will need an hour to get tender, depending on how thick you cut them. About 30 minutes before dinner, add the cabbage. If you want to add onions and garlic to flavor the soup, do it now. But don't think for a minute they will flavor the meat.  

Remove the meat and place it on a carving board. If you got the point section, there are often two horizontal muscles with a thick layer of fat between them. Separate them by sliding a knife through the fat. Carve and/or scrape off the fat layer.

Serve. Carve the meat by cutting across the grain about the thickness of a pencil. Any thinner and it will fall apart, any thicker and it will be chewy. Carve with the grain and you will have difficulty chewing. Lift out the cabbage, potatoes, and carrots and divide them into serving bowls. Place the meat in the bowl. Spoon some of the cooking liquid over them and serve.
---