After St. Patrick's Day I have two things: A hangover and leftover corned beef or pastrami. Someday I'll write about hangover cures. When I find one.
Here's what to do with the meat, potatoes, and cabbage. Make a hash of it.
I love corned beef hash, but I hate the bowl of paste that passes for the real deal in so many diners, and I especially despise the stuff in the can. So I make it myself and top it by cooking a sensual runny egg.
The recipe below is pretty forgiving. Don't sweat exact measurements.
Easy Corned Beef Hash Recipe
This corned beef hash is good for breakfast, lunch or dinner. It's also an excellent morning after repast.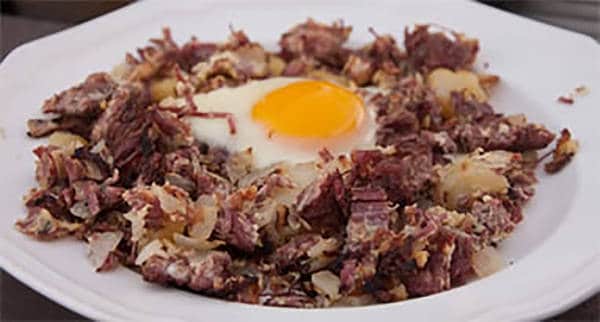 Course. Breakfast. Brunch. Lunch. Dinner. Entree.
Cuisine. Irish-American.
Makes. 2 servings
Preparation time. 20 minutes
Cooking time. 30 minutes
Serve with. Any beer but green beer
Ingredients
1 pound cooked leftover corned beef
1 pound cooked leftover potatoes
1 large onion, coarsely chopped
2 teaspoons dried thyme
6 eggs
2 teaspoons bacon fat, lard, butter, or cooking oil
1 cup broth from the boiled corned beef and cabbage or just plain water
About the meat. No corned beef? Take your choice of your choice of leftover meats: Pulled pork, ribs, brisket, sausage, bacon, chicken, turkey, salmon, and even shrimp or lobster. Just don't use something that is very saucy or wet.
About the eggs. If you want the yolks on top runny, and I do, you should use pasteurized eggs for the topping. Pateurized eggs are guaranteed safe.
Optional mix-ins. If you wish, add up to a cup of these: Corn kernels, chopped bell pepper, minced jalapeño, crushed garlic, sautéd chopped mushrooms, or finely chopped celery.
Optional toppings. If the egg is not enough, make up some Hollandaise sauce. Or top your patties with a slice of melting cheese such as Muenster, jack, pepper jack, brie, smoked gouda, provalone, cambozola, and havarti. Grate it or slice it thin and put it on as soon as you flip the hash, before the egg. How about a scoop of tomato salsa or chopped tomatoes and a pucketa of hot sauce, steak sauce, or Worcestershire sauce. I especially recommend my Secretariat Horseradish Sauce.
Method
1) Chop the meat and potatoes into 1/4 to 1/2" cubes.
2) In a large bowl, beat 2 of the eggs and the thyme with a fork, then add the broth, beat some more, then the corned beef, potatoes, and onions. Stir and let it sit for about 5 minutes so the dry meat will absorb the liquid.
3) On your grill or a sideburner, preheat a frying pan, preferably a cast iron pan, and add the fat. Roll it around so it coats the bottoms and sides. Add the hash mix and pat it down with a spatula. Cover and cook about 5 minutes, then with a spatula, turn things over.
4) Crack the remaining eggs and lay them on top of the hash. Cover and cook until the whites have set but the yolks are the way you like them. Food safety experts say that if you are not using pasteurized eggs you should cook them until the yolks are set. Be careful don't burn the bottom of the hash. If the bottom is dark brown and the eggs are not done, add a few ounces of water to make steam and put the cover on.
5) While the eggs are cooking, heat the leftover cabbage as a side dish. Microwave is fine.
"Don't cry because it is over, smile because it happened."Dr. Seuss
Published On:
05/12/2014
Last Modified:
04/06/2021