This Texas-style chili con carne recipe may settle the settle the "beans or no beans" debate forever.
If ever there was a food whose definition could bring otherwise genial people to fisticuffs, chili is it. Everyone seems to have a definition for what it is and what it isn't. But, since it probably originated in Texas when it was part of Mexico, and since chili is the official dish of the Republic of Texas, and there is less controversy in Texas over what real chili is, and since everybody in Texas is packin' heat, I'll swear by their definition.
Cooking chili probably originated as a peasant stew using tough, cheap cuts of meat. The original recipes were probably just trim and chunks of chewy cuts of beef or buffalo, some chile peppers, garlic, and onion boiled in a pot. It was popular with cowboys and some folks think armadillo, jackrabbit, and even rattlesnake often found their way into the kettle. But no beans. That's right, classic Texas chili is con carne? (with meat), not con frijoles (the stuff called chili that is served on hot dogs in Cincinnati is something else altogether).
For the traditionalists out there, I'm onto your silly game. Just put down the keyboard. I know that the addition of chocolate and carrots is unusual but there is no single official recipe and my motto is "do whatever makes it better." 
And about the spelling. This stuff is properly spelled chili with a final "i". The peppers used to make it are properly spelled chile with a final "e". For more on the subject read about chiles here.
For more info about Texas style chili and winning recipes from the famous Terlingua International Chili Championship, go to the website of the Chili Appreciation Society International.
Chili is often better after a day or two, so make up more than you need. In a rush? Be sure to check out this quick-and-easy ground beef chili recipe.
Pedernales River Chili Recipe
Inspired by a favorite of Lady Bird Johnson, this chili recipe is simple to prepare but full of flavor.
Check out this recipe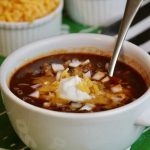 We also have some interesting insight into the cutthroat world of Texas chili cook-offs right after the chili con carne recipe or by clicking here.
Beginning in the late 1960s, numerous chili cookoffs all over Texas, New Mexico, and many points beyond, have brought scores of tasty recipes to the fore. Here is one that contains all the classic traditional ingredients of the old timey range cook along with some clever recent additions. Like chocolate. Unsweetened chocolate was a common additive in the cooking of Mexican Indians, who first discovered the brown stuff, and a little bit adds a subtle background depth and richness that is often found in the top award winning recipes. Many cooks insist on unsweetened chocolate, but then they add sugar to the pot. And it can add bitterness as we learned while testing the recipe. But good old milk chocolate is the perfect addition.
A lot of recipes also add beer, but we thought that contributed to bitterness, so we left it out.
Another interesting addition is tortilla chips. A Mexican cook will use corn masa, the dough used to make tortillas. By adding chips we get pretty much the same result without the labor, and a little salt.
Most chili recipes start by rendering fat in the bottom of a kettle and frying the ingredients a few at a time building flavor by browning the meat, caramelizing the onions, and blooming the spices. But we know there's more flavor to be gained on the grill and smoker, so we started there for a BBQ element.
And finally, we list some optional toppings. I really like the sour cream option.
Serve with: A stout or porter.
---
---
Makes:
Servings:
8 ounce servings
---
Takes:
---
Ingredients
Chili
1.5

pounds

beef chuck

(after trimming off as much fat and gristle as possible, see notes below)

1

large

onion

4

strips

bacon

3

medium

carrots

½

red bell pepper

2

cloves

garlic

4

teaspoons

American chili powder

½

tablespoon

ground cumin seed

7

ounces

diced tomatoes

2

tablespoons

fresh lime juice

½

ounce

milk chocolate

2

cups

low sodium beef stock or water

5

corn tortilla chips

½

teaspoon

Morton Coarse Kosher Salt

½

teaspoon

finely ground black pepper

1

tablespoon

brown sugar
Optional Toppings
1

jalapeño

1

cup

shredded cheddar

⅛

cup

fresh cilantro leaves

½

cup

sour cream

2

fresh tomatoes

2

8-inch

fresh tortillas

4

teaspoons

lime juice
Notes:
About the meat. You need to use all beef if you want to win a competition in Texas, but for more interesting flavors you can use a mix of beef, pork, chicken, and lamb if you wish. In Texas the choice is usually cheaper cuts of beef like chuck, shoulder, sirloin roast, brisket, or stew meat, never tenderloin, ribeye, or strip. I use chuck, but short ribs and brisket point are wonderful choices. If you have leftover smoked Texas style beef brisket or pulled pork, that will work just fine. If you've got buffalo, rabbit, or rattlesnake, throw it in, too.
About the chili powder. Chili powders are blends and no two are alike. Some are quite hot, others mild. I use my own recipe (follow the link). Mine is heavy on the ancho chiles, and that is important. Most chili con carne is heavily flavored by ancho. It has a deep raisiny character and is not very hot. You can add ancho powder if you wish.
About the chocolate. Traditionalists use only unsweetened dark chocolate, but semi-sweet or sweet will do. The small amount of sweetness will not hurt the stew. If you are using unsweetened chocolate, be careful chopping it or you'll have a finger in the stew.
About the tortilla chips. You can use any of the popular store-bought brands that are corn based and not heavily flavored. Because they are usually heavily salted we do not salt the stew until after it has cooked a while and we have tasted it.
About the carrots. Another controversial ingredient. I think they bring a sweetness, a crunch if you don't over or undercook them, and nice color. So there.
Optional add-ins if you are not in Texas. 2 (16 ounce/453g) cans of kidney and/or pinto beans, drained. If you add beans, it won't be Texas chili, but it will still be good. I won't tell anyone. Add canned beans for 30 minutes before serving.
About the toppings. Garnish the individual bowls as you wish. I like to take fresh tortillas, toast them on the grill, cut them into strips, sprinkle them on top, sprinkle on some chopped onion, and add a dollop of sour cream. Or you could just put the toppings in bowls and let people garnish to their own taste. Go crazy.
Optional serving methods. Chili is great when served on rice, cooked pasta, a baked potato, hot dogs, nachos, and more.
About the salt.
Remember, kosher salt is half the concentration of table salt so if you use table salt, use half as much. Click here to read more about salt and how it works.
Metric conversion:
These recipes were created in US Customary measurements and the conversion to metric is being done by calculations. They should be accurate, but it is possible there could be an error. If you find one, please let us know in the comments at the bottom of the page
Method
Prep. Prepare your mise en place. To begin, slice the onions in half, peel, and cut off the root end and the tops from the halved onions. Peel the carrots and cut into cubes about 1/4-inch (6.3mm) each. Remove the stem, core, and seeds from the bell pepper and roughly chop. Press the garlic with a garlic press or mince it. Cut the chocolate into pea-size chunks. Crumble the corn chips. Remove the stem from the jalapeños and finely minced. Chop the cilantro. Chop the tomatoes.

Fire up. Prepare your grill for 2-zone indirect cooking or fire up your smoker at 225°F (107°C), and get some smoke rolling.

Cook. Add the unseasoned meat and the onion to the cool side of the grill or into the smoker, cover the grill or smoker, and cook just long enough to pick up the smoke flavor. They will finish cooking in the stew. When they are done, coarsely chop the onion, and cut the meat into cubes about 1/2-inch (1.3cm) on each side.

Place the fresh tortillas on the hot side of the grill and, monitoring closely, cook until lightly browned on both sides, less than 1 minute per side. Remove, cut into strips, and set aside until you are ready to serve alongside the chili.

Turn the heat under the pot to medium-low and add the bacon. When the bacon is mostly done, remove it from the pot and set aside until ready to serve with the chili.

Add the meat to the pot and cook til it is brown on all sides. Don't crowd the pot or the meat will steam. You may have to work in batches.

Add the onion, garlic, chili powder, and cumin to the pot and cook for about 2 minutes. Stir well and make sure to get the brown bits off the bottom. Add the tomatoes, lime juice, meat, chocolate, tortilla chips, and the stock or water. Stir well.

Cover the pot and allow the chili to simmer over low for about 2 to 3 hours. Stir frequently to make sure it is not sticking to the bottom and burning.

When the chili is about the thickness you like, add salt, pepper, and brown sugar to taste. If it is too thick, add more water. If you want it hotter, add your favorite hot sauce, chipotle powder, or chipotle in adobo sauce. Be sure to add this a little bit at a time. Remember, as my barber used to say, "I can cut it off, but I can't put it back on."

Add the carrots, sweet bell peppers, and bacon about 15 minutes before taking it off the heat to serve. You want them to have a little crunch. You can omit them, but I recommend you don't.

Serve. Add any toppings you choose and serve. If you are serving the chili at a party, you can put it in a slow cooker on low alongside the toppings and bowls so they can prepare their chili to their liking. Traditionalists serve chili straight with a good crusty bread suitable for dunking.
---
Nutrition per Serving
Calories:
565
kcal
|
Carbohydrates:
19
g
|
Protein:
42
g
|
Fat:
37
g
|
Saturated Fat:
14
g
|
Trans Fat:
1
g
|
Cholesterol:
141
mg
|
Sodium:
965
mg
|
Potassium:
1150
mg
|
Fiber:
3
g
|
Sugar:
9
g
|
Vitamin A:
1182
IU
|
Vitamin C:
29
mg
|
Calcium:
104
mg
|
Iron:
6
mg
Texas Chili Cook-off
This shaggy dog story has made the rounds on the net for years. I have edited it slightly and reprint it here just in case you missed it.
Seems one of the three experienced chili judges at a cookoff in El Paso called in sick at the last minute. The officials grabbed a barbecue writer who was generally making himself obnoxious by bragging to the barmaids at the beer truck about how he was a certified barbecue judge. Here are the scorecard notes from the judges. The barbecue writer, who called himself Meathead, was Judge 3.
Mike's Maniac Monster Chili
Judge 1 – A little too heavy on the tomato. Amusing kick.
Judge 2 – Nice, smooth tomato flavor. Very mild.
Judge 3 (Meathead) – Holy crap, what the hell is this stuff? You could remove dried paint from your driveway. Took me two beers to put the flames out. I hope that's the worst one. These Texans are crazy.
El Rancho's Afterburner Chili
Judge 1 – Smoky, with a hint of pork. Slight jalape–o tang.
Judge 2 – Exciting BBQ flavor, needs more peppers to be taken seriously.
Judge 3 – Keep this out of the reach of children. I'm not sure what I'm suppose to taste besides pain. I had to wave off two people who wanted to give me the Heimlich maneuver. They had to rush in more beer when they saw the look on my face.
Alfredo's Burn Down The Barn Chili
Judge 1 – Excellent firehouse chili. Great kick.
Judge 2 – A bit salty, good use of peppers.
Judge 3 – Call the EPA! I've located a uranium spill. My nose feels like I have been snorting Drano. Get me more beer before I ignite. Barmaid pounded me on the back, now my backbone is in the front part of my chest. I'm getting buzzed.
Bubba's Black Magic
Judge 1 – Almost no spice. Disappointing.
Judge 2 – Hint of lime. Good side dish for fish or other mild foods, not much of a chili.
Judge 3 – I felt something scraping across my tongue, but was unable to taste it. Is it possible to burn out taste buds? Sally, the barmaid, was standing behind me with fresh refills. This 300 pound (136 kg) 70 year old is starting to look HOT. Is chili an aphrodisiac?
Lisa's Legal Lip Remover
Judge 1 – Meaty, strong chili. jalape–o peppers freshly ground, adding considerable kick. Very impressive.
Judge 2 – Chili made with shredded beef, could use more tomato. Must admit the jalape–o peppers make a strong statement.
Judge 3 – My ears are ringing, sweat is pouring off my forehead and I can no longer focus my eyes. I farted, and four people behind me needed paramedics. The contestant seemed offended when I told her that her chili had given me brain damage. Sally saved my tongue from bleeding by pouring beer directly on it from the pitcher. I wonder if I'm burning my lips off. It really ticks me off that the other judges asked me to stop screaming.
Varga's Very Vegetarian Variety
Judge 1 – Thin yet bold vegetarian chili. Good balance of spices and peppers.
Judge 2 – Aggressive use of peppers, onions, garlic. Superb.
Judge 3 – My intestines are now a straight pipe filled with gaseous, sulfuric flames. Can't feel my lips anymore. I need to wipe my butt with a snow cone.
Susan's Screaming Sensation Chili
Judge 1 – A mediocre chili with too much reliance on canned peppers.
Judge 2 – Ho hum, tastes as if the chef literally threw in a can of chile peppers at the last moment. I should take note that I am worried about Judge 3. He appears to be in distress as he is cursing uncontrollably.
Judge 3 – You could put a grenade in my mouth, pull the pin, and I wouldn't feel a thing. I've lost sight in one eye, and the world sounds like it is made of rushing water. My shirt is covered with chili, which slid unnoticed out of my mouth. My pants are full of lava to match my shirt. At least during the autopsy, they'll know what killed me. I've decided to stop breathing. It's too painful. Besides, I'm not getting any oxygen anyway. If I need air, I'll just suck it in through the 4″ (10 cm) hole in my stomach.
Big Tom's Toenail Curling Chili
Judge 1 – The perfect ending, this is a nice blend chile. Not too bold but spicy enough to declare its existence.
Judge 2 – This final entry is a good, balanced chile. Neither mild nor hot. Sorry to see that most of it was lost when Judge #3 passed out, fell over and pulled the chili pot down on top of himself. Not sure if he's going to make it. Poor feller, wonder how he'd have reacted to really hot chili?
Judge 3 – No report.