Pecan Tassies are mini bite size pecan pies, addictive little mouthfuls that are crunchy, nutty, gooey, flaky, and easy to pop one after another.
Nobody is sure where this recipe originated, but they are thought to be Southern so they are most likely from Georgia, Florida, or Texas where pecans are important cash crops. These tasty tartlets are often served at Southern weddings, but are most commonly found as a Christmas and Thanksgiving dessert, when pecans are still fresh. In the movie Steel Magnolias, Clairee (played by Olympia Dukakis) serves them to the gang at the beauty shop.
Occasionally called Tea Time Tassies, they likely got their name because they are made in little cups, and the word tasse means cup in French (to make them, you need mini muffin pans, shown below).
My wife served them to me when we were dating and they played no small role in my decision to propose marriage. She got her recipe from her Aunt Dee who called them Crunch Cups.
A bit of a pain to make, these golden cups with their mahogany filling are worth the effort. Cook them a day in advance if you can. I think they're better after a day of aging. They can be kept for a week at room temp in an airtight container or they can be frozen and kept for a month.
Pecan Tassies Recipe (a.k.a. Bite Size Pecan Pies, a.k.a. Crunch Cups)
Satisfy your sweet tooth with this delicious recipe for pecan tassies, mini bite size pecan pies. Crunchy, nutty, gooey, flaky, and easy to pop one after another, these tasty tartlets are often served at Southern weddings, but are most common at Christmas and Thanksgiving, when pecans are still fresh.
Course. Dessert. Pie.
Cuisine. Southern. American.
Makes. About 2 dozen tassies
Preparation time. 1 hour
Cooking time. 30 minutes
Cooling time. 15 minutes minimum
Total time. 1 hour 45 minutes
Ingredients for the shells
3 ounces (1 small brick) full fat cream cheese
1 stick salted butter (8 tablespoons) at room temp
1 cup all-purpose flour
Ingredients for the filling
1/3 cup pecans, coarsely chopped
1 egg
3/4 cup dark brown sugar
1/2 teaspoon vanilla
1 teaspoon salted melted butter
Method
1) Preheat the oven to 350°F.
2) Mix cream cheese, butter, and flour until the flour powder disappears. Do not overmix.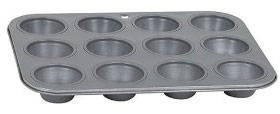 3) Make 1" balls and drop them into the wells of the mini muffin pans. There is no need to grease or flour the pan. Press them into a hollow cup. The bottoms and sides should be about 1/8" thick. Sprinkle a layer of chopped pecans in the bottom of the cups.
4) Whisk together the eggs, brown sugar, vanilla, and melted butter and pour into the cups, filling them only about 2/3 of the way. The filling will expand.
5) Bake for about 30 minutes or until the pastry is golden. Cool for at least 15 minutes by sitting the muffin pans on wire grates so air can circulate under them. You can use the grates from your grill. Run a sharp knife around the cups to loosen them and pop them out. Eat any that break. For Christmas, sprinkle with powdered sugar so they look like they're covered with snow.
"The only thing that separates us from the animals is our ability to accessorize."Clairee from the movie Steel Magnolias
Published On:
05/09/2013
Last Modified:
01/09/2020