Some food combinations just work well together. We do not have to understand why to appreciate how delicious the flavors are. Recently, one of my favorites has been shrimp and grits. In this recipe, we make the grits ahead of time and finish them on the griddle grill as polenta cakes. It's one of those dishes that works well as a main course, but can also be a fantastic appetizer or lunch when served with a salad.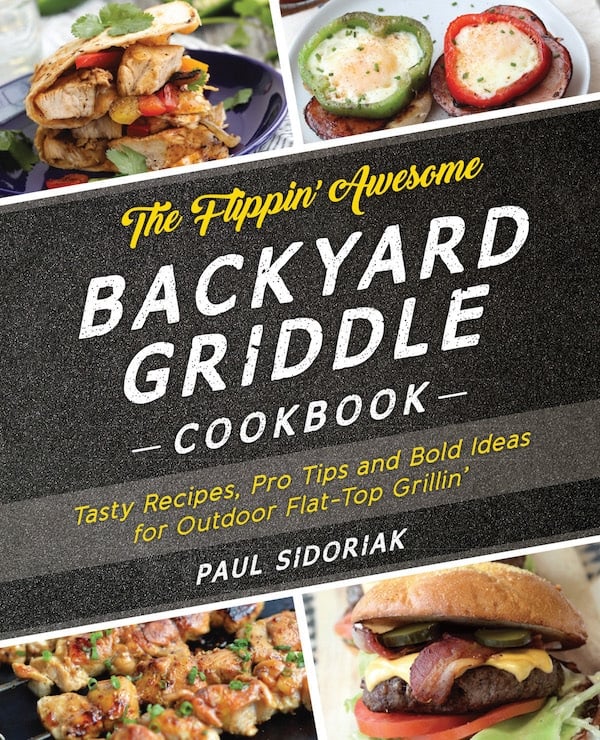 This recipe is adapted with permission from The Flippin' Awesome Backyard Griddle Cookbook by Paul Sidoriak. This book features 50 delicious recipes from diner classics like flapjacks and smashed burgers to hibachi favorites like yakitori as well as innovative treats like jalapeno bacon-wrapped corn on the cob. With full-color images for every recipe, simple step-by-step instructions, and lay-flat binding, Flippin' Awesome is the indispensable guide to rockin' the griddle all summer long!
Combining shrimp with polenta is similar to shrimp and grits, a southern tradition. It doesn't get much better than this.
---
---
Makes:
---
Takes:
---
Ingredients
3

cups

water

1

tablespoon

garlic salt

1

cup

fine cornmeal/polenta

2

cups

shredded white cheddar cheese

divided

¼

cup

cold butter

(1/2 stick, divided)

1

pound

jumbo 21/25 shrimp

cooking oil, as needed

White Wine Griddle Sauce

(recipe follows)
Metric conversion:
These recipes were created in US Customary measurements and the conversion to metric is being done by calculations. They should be accurate, but it is possible there could be an error. If you find one, please let us know in the comments at the bottom of the page
Method
Prep. Make the polenta cake in advance by bringing water and garlic salt to a boil in a medium pot over high heat. Reduce the heat to low, and add the polenta, stirring frequently to prevent clumping. Using a long-handled wooden spoon or heat-resistant spatula, stir constantly as you allow the polenta to cook at a very slow boil over low heat. Boiling polenta is extremely hot and unpleasant if it hits your skin, so take care to prevent it from splashing on you while cooking. Cook for 12 to 15 minutes, until it has thickened to a coarse pudding-like consistency, then stir in half the cheese and butter. Stirring frequently, allow the butter and cheese to melt completely, then add the remaining butter and cheese. Stir until fully melted. Carefully pour the polenta into a square baking pan or muffin tins, in a layer about an inch thick. Allow to cool 4 to 6 hours or overnight, covered in the refrigerator.

Fire up. Bring the griddle grill to medium-high heat.

Remove the polenta from the refrigerator and invert it onto a flat surface to take it out of the pan. If you used a baking pan, cut the polenta into squares based on how many servings you intend to make.

Cook. Peel and devein the shrimp. Grease the griddle grill well with cooking oil, and once it begins to shimmer, add the shrimp on one side and the polenta cakes on the other. Cover the shrimp and allow both the shrimp and the cakes to cook undisturbed for 3 to 4 minutes.

Flip all the shrimp and deglaze with some of the White Wine Griddle Sauce, then cover. To flip the polenta cakes, use a sturdy spatula, and scrape under the cake, making sure all the golden brown crust remains intact. The shrimp should be done when pink throughout and curled from head to tail, after about 6 minutes.

Serve. Serve the shrimp on top of the polenta cakes.

White Wine Griddle Sauce Recipe

A mix of white wine and sherry adds a lovely sweetness to recipes.

Makes. About 2 cups (473.2 ml).

Takes. About 5 minutes.

1 cup (236.6 ml) dry white wine

1/4 cup (59.1 ml) cooking sherry

1/4 cup (59.1 ml) cooking oil

2 tablespoons finely minced shallots

1 tablespoon dried parsley

1 tablespoon finely minced garlic

1 tablespoon finely minced capers

1 teaspoon pepper

Method

1) Prep. Finely mince the shallots, and place in a medium bowl. Add remaining ingredients to the bowl and whisk until combined. Use immediately or store refrigerated for up to 10 days.
---