This dish makes a perfect accompanying act to almost any recipe, but it could star as a lunch all by itself. The sweetness of the corn works great with the saltiness of the bacon, and the punch of heat from the jalapeños is tempered by the cream cheese. I have been cutting corn off of the cob since an orthodontist recommended I do so, but however you enjoy it, I am sure you will find it as ear-resistible as I do.
---
---
Makes:
---
Takes:
---
Ingredients
½

cup

cream cheese

2

ears of corn

½

cup

jalapeño

1

tablespoon

smoked paprika

6

strips

thin-cut bacon
Metric conversion:
These recipes were created in US Customary measurements and the conversion to metric is being done by calculations. They should be accurate, but it is possible there could be an error. If you find one, please let us know in the comments at the bottom of the page
Method
Prep. Pull the cream cheese out of the fridge and let it come to room temp for about an hour. Then use a whisk to whip it. Alternatively, but whipped cream cheese. Now shuck the corn. Cut off the stem of the jalapeno and remove the seeds. Mince it fine.

Smear the corn with cream cheese. This allows the jalapeños to adhere better. Dust each of the ears of corn with paprika directly onto the cream cheese.

Roll. Sprinkle the diced jalapenos on a cutting board or flat surface, and then roll the corn through the jalapenos, picking up as many bits of pepper as you can.

Wrap. Start with a strip of bacon at the stalk end and wrap it around the corn. If you give the bacon a bit of a stretch, it often makes a smoother layer and adheres more tightly. Overlap the strips of bacon and wrap until the entire ear of corn is covered. Take care to wrap the bacon tightly so the cream cheese is less likely to leak out.

Fire up. Preheat the griddle to a target temperature of about 300°F.

Cook. Place bacon-wrapped corn directly on the griddle and cover. Rotate the corn a quarter turn every 2 to 3 minutes. The goal is to both render the bacon and allow the corn to completely cook through.

Serve. The corn should be done in 15 to 18 minutes, but the slower you render the bacon, the more flavorful the corn becomes.
---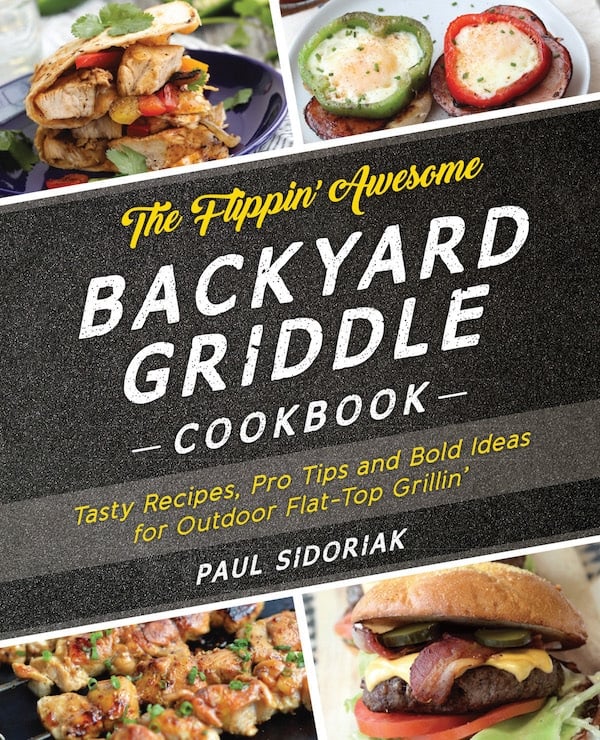 This recipe is adapted with permission from The Flippin' Awesome Backyard Griddle Cookbook by Paul Sidoriak. It features 50 delicious recipes from diner classics like flapjacks and smashed burgers to hibachi favorites like yakitori as well as innovative treats like jalapeno bacon-wrapped corn on the cob. With full-color images for every recipe, simple step-by-step instructions, and lay-flat binding, Flippin' Awesome is the indispensable guide to rockin' the griddle all summer long!