Say goodbye to bland, overcooked carrots and hello to bright sous-vide-que carrots.
Growing up, I couldn't stand eating carrots. After all, my only experience with them was the occasional scoop of soft and flavorless steamed carrot coins served by the cafeteria lunch lady at school.
Later in life, however, I discovered the magic of fresh vegetables, including just how bright and vibrant the flavors can be when the vegetables are not steamed, frozen or canned.
Unlike many soft vegetables, cooking whole carrots on the grill can be a real challenge. Cooked carrots often taste best when heated just enough to become slightly tender yet still a bit crisp or crisp-tender. The Sous-Vide-Que method of cooking helps give cooked carrots just the right snap.
While meat proteins cook and transform at water bath temperatures between 131°F (steak) and 167°F (dark meat chicken), carrots require temperatures in the 185°F range and a total cooking time of at least one hour, depending on the thickness of the carrots. Once the sous vide bath is complete, hit the grill for a quick char and carrots will never disappoint you again!
Charred Sous-Vide-Que Carrots Recipe
Grilling carrots can be a challenge but the addition of sous vide ensures that they are cooked to perfection before being grilled. A temperature controlled water bath cooks the carrots until fork tender. Once perfectly cooked, the carrots a grilled over high heat just long enough to give them a nice char and smoke.
Course. Lunch. Dinner. Side Dish. Vegetable.
Cuisine. American.
Makes. 4 to 6 servings
Takes. 1 hour to sous vide, approximately 5 minutes to grill
Special tools. Sous vide immersion circulator. One gallon sealable freezer bags.
Ingredients
2 pounds rainbow carrots
4 tablespoons unsalted butter
4 fresh sage leaves
4 sprigs fresh rosemary
About the fresh herbs. If fresh herbs aren't available, simply substitute 1 part dried herbs for every 2 parts fresh herbs. For this recipe, four sage leaves equal approximately 1/2 teaspoon dried sage. Four sprigs fresh rosemary equal approximately one teaspoon dried rosemary leaves. For more on fresh herbs, please visit The Science of Fresh Herbs.
Method
1) Prep. Prepare a sous vide immersion circulator, such as Joule by ChefSteps, according to the manufacturer's instructions and set the water temperature for 185°F.
2) Peel the carrots. Place the purple, red, and orange carrots into one zipper freezer bag then place the yellow and white carrots in a second bag in order to keep the darker colored carrots from staining the lighter ones. Divide the butter, sage, and rosemary between the two bags. Carefully submerge the bags in the water bath until most of the air has been removed and then seal the bags. Once the bags are submerged, cook for one hour.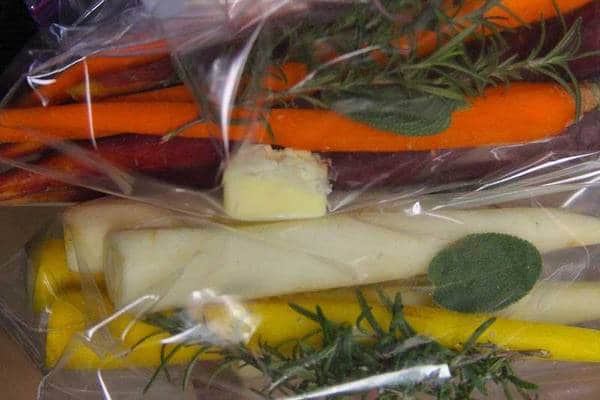 3) Fire up. Prepare a grill for medium high heat cooking.
4) Cook. Once the grill is ready, remove the carrots from the bags and place on the hot side of the grill. Grill until lightly charred, four to five minutes.
5) Serve. Remove carrots from the grill and plate. Drizzle with olive oil and sprinkle with coarse sea salt before serving.
"The only time to eat diet food is while you're waiting for the steak to cook."Julia Child
Published On:
09/15/2017
Last Modified:
11/05/2019