Impress your guests with this simple dessert recipe -- grilled peach crumble!
The arrival of summer means many things to many people, but for me it marks the arrival of my favorite fresh fruit: peaches. Sweet, juicy, and full of flavor, they are a refreshing foil for the blistering heat.
They also star in this simple dessert recipe for your next cookout, grilled personal peach crumbles. It begins by quickly charring halved peaches on the grill. Then you top them with a simple, sweet crumble mixture and bake the peaches on the grill over indirect heat until they take on a delicate smoky flavor and the crumble becomes crisp and golden brown. Top them off with a dollop of whipped cream, and you've got a delicious no-fuss dessert!
Grilled Peach Crumble Recipe
This delicious and easy grilled peach crumble recipe is the perfect summer dessert for any backyard BBQ.
Course. Dessert. Pie.
Cuisine. American.
Makes. 6 servings
Takes. 5 minutes prep, 20 minutes total cook time
Serve with. Sparkling wine
Ingredients
3 tablespoons unsalted butter, at room temperature
1/2 cup all-purpose flour
3 tablespoons light brown sugar
2 tablespoons granulated sugar
1/2 teaspoon ground cinnamon
1/4 teaspoon Morton's kosher salt
3 ripe fresh peaches
Homemade or aerosol whipped cream
Method
1) Prep. Combine the butter, flour, brown sugar, granulated sugar, cinnamon, and salt in a small bowl. Blend the ingredients with a fork to create small crumbles.
2) Cut the peaches in half vertically. Twist the halves and remove the pits. Cut approximately 1/8-inch off of the rounded side of each peach half so that the peaches can sit flat, pit side up, on the grill.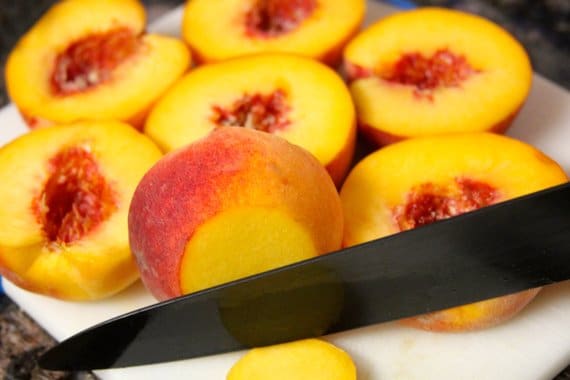 3) Fire up. Prepare a grill for indirect cooking by placing a chimney full of pre-heated charcoal briquets on one side of the grill's charcoal grate in order to create direct and indirect cooking zones. Add 2 to 3 chunks of your favorite smoking wood to the charcoal for flavor. Adjust the grill vents to bring the temperature to about 325°F. On a gas grill, adjust the temperature knobs so that one half of the grill is off and the other half is heated enough to maintain a temperature of approximately 325°F.
4) Cook. Place the halved peaches, pit side down, on the hot side of the grill. Grill the peaches until lightly charred, approximately 3 to 4 minutes. Remove the peaches from the grill.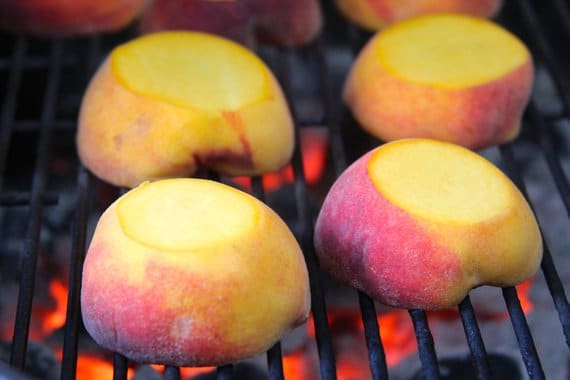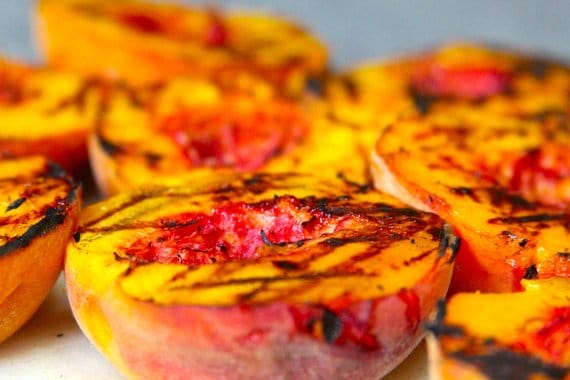 5) Spread on the crumble. Top the pit side of the peaches generously with the crumble mixture, spreading the crumble all the way to the edges. Set the peaches, topping side up, on the cooler side of the grill as far from the heat source as possible. Cover the grill and allow the peaches to cook until the crumble mixture is golden brown, approximately 15 minutes.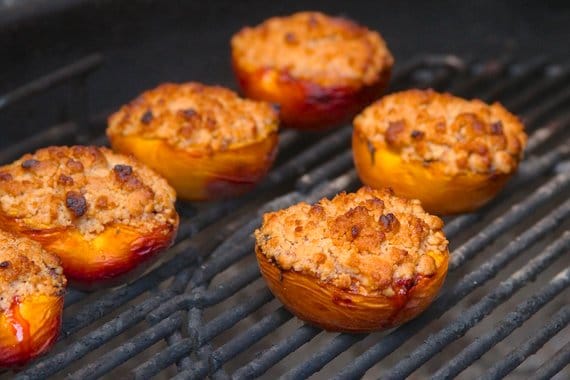 6) Serve. Plate the peaches and top with whipped cream. Serve immediately.
"Chocolate's okay, but I prefer a really intense fruit taste. You know when a peach is absolutely perfect... it's sublime."Kathy Mattea
Published On:
08/01/2018
Last Modified:
09/08/2020