What could be better after an All-American BBQ than All-American Apple Pie, cooked on the already warm grill.
Surprise the guests at your next BBQ cookout with this recipe for apple pie on a grill. You can use a single crust below the filling, or make a double crust and top the filling with more crust, or make a lattice from a second crust and sprinkle it with sugar as in the photo below.
Grilled Apple Pie Recipe
To make the prep work easy, we use a crumble topping in this grilled dessert recipe.
Course. Dessert. Pie.
Cuisine. American.
Makes. 6 to 8 servings
Takes. About 60 minutes for preparation and another 60 minutes to cook
Ingredients
Crust
1 recipe all-purpose pie dough for a single crust or a purchased pie crust
Filling
2 tablespoons Instant ClearJel or all purpose flour
1/4 cup granulated white sugar
1/4 teaspoon ground allspice
1/2 teaspoon ground cinnamon
1/4 teaspoon Morton's coarse kosher salt
2 tablespoons freshly squeezed lemon juice
2 1/2 pounds peeled, cored, sliced apples (about 5 to 6)
Crumble topping
3/4 cup all purpose flour
3/4 cup brown sugar
3/4 teaspoon cinnamon powder
4 tablespoons of cold salted butter
About the apples. The best baking apples are on the hard side. The tried and true classics are Granny Smith and Golden Delicious, and my favorite is Honeycrisp, but other good ones are Jonathan, Jonagold, Braeburn, Winesap, Cortland, Gala.
About the butter. If you have only unsalted butter, add 1/4 of kosher salt
About the ClearJel. It is used as a thickener to keep the juices from running all over when you slice. Instant ClearJel is the favorite of pros, but you can use flour, corn starch, or tapioca. Click here to read more about your options.
Method
1) Prep. Make or buy the pie dough and put the bottom in a pie pan. Put it in the freezer for a few minutes to chill it.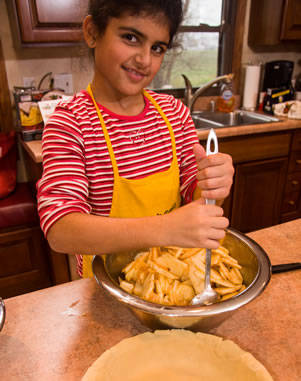 2) Make the filling in a large bowl by combining the sugar, tablespoons of flour, nutmeg, cinnamon, cloves, and lemon juice. Add the apples, stirring to coat. Transfer the apple mixture to the pie pan, smoothing out the filling.
3) Make the topping in a medium bowl by combining the flour, brown sugar, and cinnamon. Using 2 knives or a pastry blender, cut in the butter until the mixture resembles coarse crumbs. Sprinkle the topping evenly over the apple filling.
4) Fire up. Set up your grill for 2-zone cooking and preheat it to 425°F in the indirect side.
5) Cook. Place the sheet pan on the indirect side and preheat it. If you don't have a sheet pan a baking pan will work or use a large piece of heavy duty aluminum foil. Place the pie on the indirect side, close the lid, and bake until the liquid is bubbling and the apples are tender, 50 to 60 minutes.
6) Serve. Serve it straight or with vanilla ice cream or extra-sharp cheddar cheese, sliced thick.
"The sex with Mandy was good, but it wasn't like warm apple pie."Wilmer Valderrama
Published On:
02/02/2012
Last Modified:
03/18/2020