Perfect Smoked Ribs Every Time With Sous-Vide-Que
By: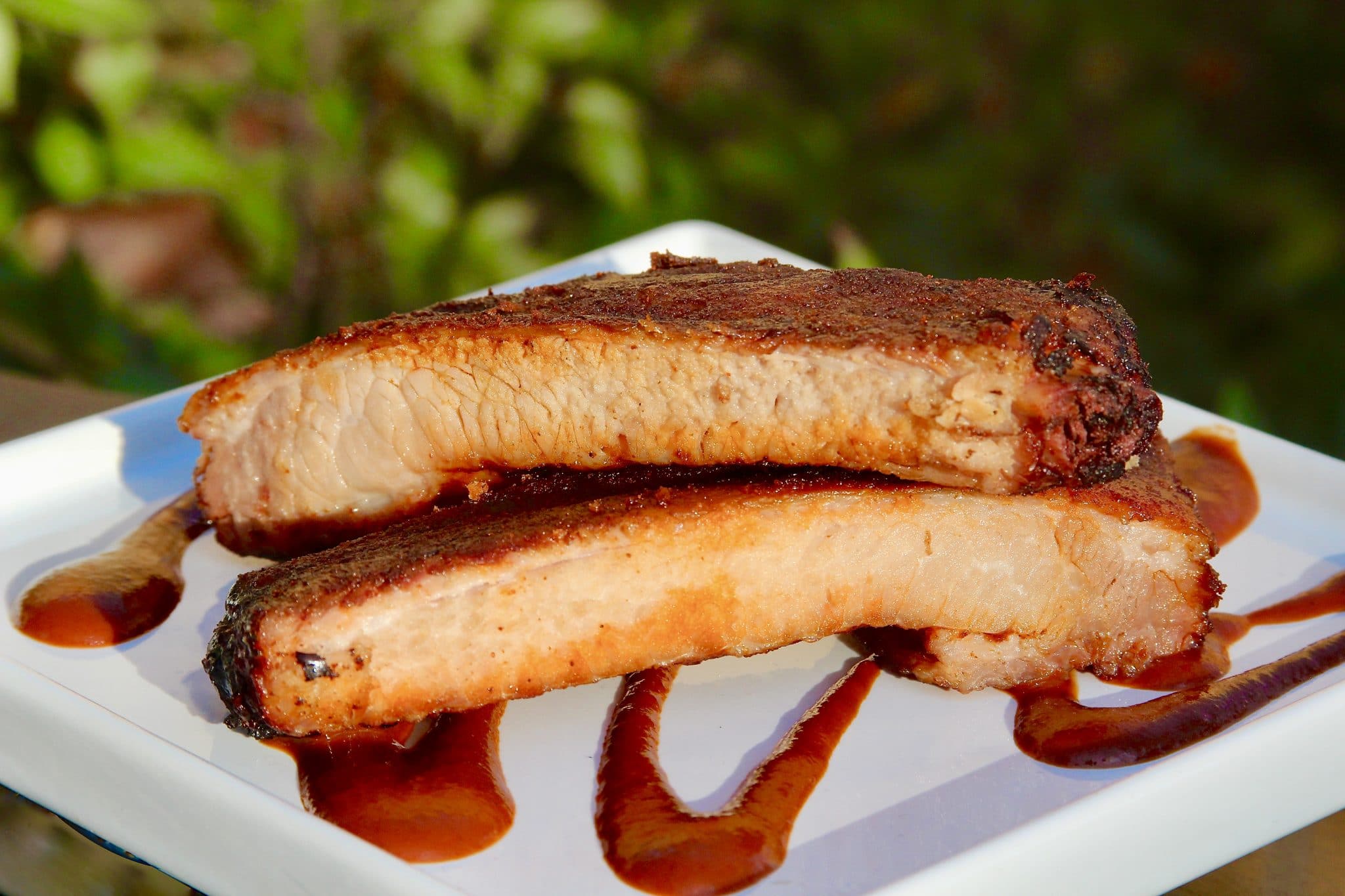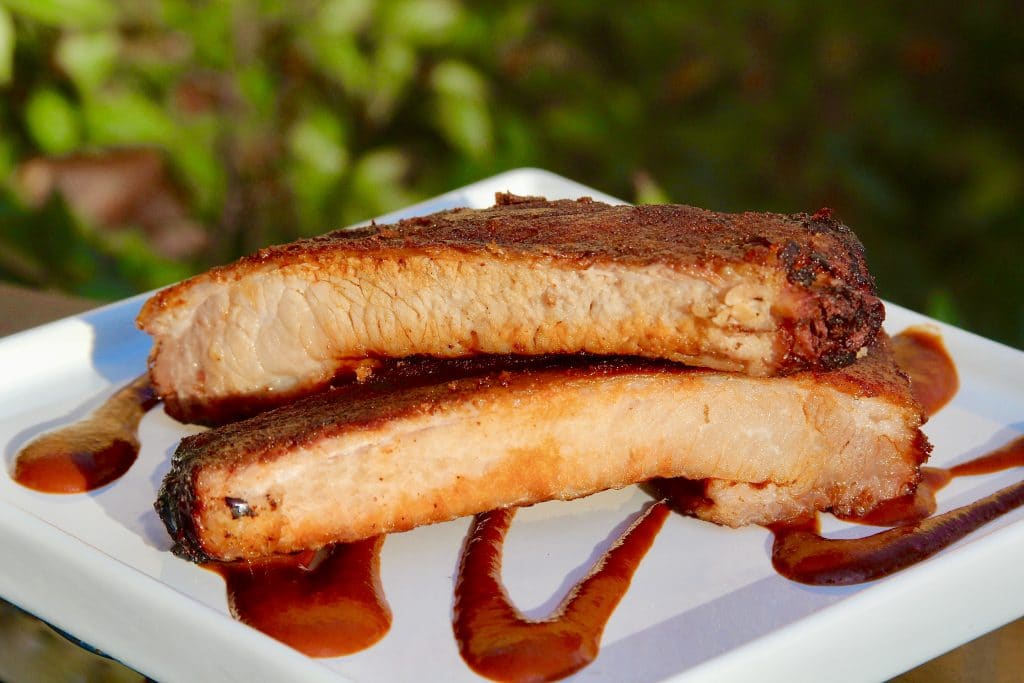 Create succulent ribs on the smoker or grill by marrying water and fire in this recipe for sous-vide-que St. Louis spare ribs.
Sous vide and steaks go together like Fred and Ginger, or soy sauce and ginger, but there is so much more to explore when it comes to the world of sous-vide-que. Take, for example, our namesake — ribs.
We all love ribs and I actually consider myself to be a pretty darn good rib cook with trophies to prove it. But is it possible to turn out "amazing ribs" using sous-vide-que?
To find out, I first had to decide on a proper time and temperature for the water bath. After consulting a few experts and taking into account various data including this study by our friend J. Kenji Lopez-Alt at SeriousEats.com, I opted for 150°F for 24 hours. This is also in line with our sous vide que time and temperature guide here.
Explore the world of Sous Vide Que, the ultimate marriage of water and smoke, by clicking here to download our ebook "Sous Vide Que Made Easy" for $3.99 on Amazon (free Kindle app runs on all computers). Or get the book and others FREE as a member of the AmazingRibs.com Pitmaster Club. Click here to join.
The real issue, though, was how to add enough smoke to replicate a traditional low and slow rack of ribs. While other recipes rely on liquid smoke, my earlier experiments had shown that finishing the meat on the grill over indirect heat for 15 to 30 minutes could provide the perfect touch of smoke for that true BBQ flavor. Yep, that's all it takes!
In my experiments I also explored chilling food after the water bath so that it could be finished at a later point. Building upon that, I decided to see if the chilling step had any effect on the overall flavor of the finished product. One half of the rack of ribs was chilled before grilling while the other half went straight on the grill for a side-by-side comparison.
Each dry brined half rack was placed in a sealable freezer bag, and cooked in a 150°F water bath for 24 hours. Note that the half that was to be chilled was started 30 minutes early so that both portions could be finished on the grill at the same time.
After the bath, one section of ribs was quickly immersed in a 50/50 mix of water and ice for 30 minutes in order to rapidly reduce the core temperature of the food to a safe range of 34 to 38°F.
To finish the ribs, the grill was prepared for 2-zone cooking, placing a charcoal chimney full of pre-heated charcoal briquets to one side of the grill's charcoal grate in order to create direct and an indirect cooking zones. Two chunks of cherry wood were also added to the charcoal for smoke flavor. As the cooker came to temperature, the ribs were removed from the bags, patted dry, and seasoned with Meathead's Memphis Dust. Once the grill was ready, the sections from the cold and warm water baths were placed on the indirect side of the grill. The lid was added (with the top vent fully opened and positioned directly above the ribs in order to force the smoke over and around the meat) and the ribs smoked for exactly 30 minutes.
The Results: Perfect Sous-Vide-Que Ribs
After smoking for 30 minutes, both sections of ribs were sliced and served. On texture/tenderness, I would easily score them 9s (the best possible score) in a Kansas City Barbeque Society contest.
On flavor, the 24-hour water bath helped the dry rub to flavor the meat and the 45 minutes of smoke was just enough to put the ribs on par with those cooked exclusively on the smoker or grill. That's because smoke sticks best to cool wet surfaces. As for the chilled and non-chilled sections of ribs, there was zero notable difference between the two. As such, it is fair to say that there is no downside to (properly) chilling foods after the water bath so that they can be finished at a later point in time.
Finally, while these could easily be called "perfect ribs," the time involved makes me hesitant to recommend this as a preferred method of preparation. If, however, you're looking for a great way to cook ribs ahead for say a tailgate party or picnic, simply sous vide the ribs and chill them so they can be reheated on the grill for 45 minutes when you are ready to serve.
Create succulent ribs on the smoker or grill by marrying water and fire in this recipe for sous-vide-que St. Louis spare ribs. By starting them in a low and slow sous vide water bath, the ribs are rendered moist and tender before they're finished on the grill for that smoky flavor we all love in traditional BBQ ribs. You can use any cut of ribs.
Serve with: Your favorite ale or pilsner.
---
Course:
Dinner, Lunch, Main Course
---
Makes:
1 slab St. Louis spare ribs
---
Takes:
Total Time:
1
day
1
hour
15
minutes
Sous vide immersion circulator

One gallon sealable freezer bags
---
---
Calories:
921
kcal
|
Carbohydrates:
10
g
|
Protein:
49
g
|
Fat:
74
g
|
Saturated Fat:
24
g
|
Trans Fat:
1
g
|
Cholesterol:
254
mg
|
Sodium:
1083
mg
|
Potassium:
824
mg
|
Fiber:
1
g
|
Sugar:
8
g
|
Vitamin A:
53
IU
|
Vitamin C:
1
mg
|
Calcium:
56
mg
|
Iron:
3
mg
Related articles
Published On: 8/2/2015 Last Modified: 4/14/2021
Clint Cantwell - Clint Cantwell is AmazingRibs.com's Senior Vice President of Whatever, charged with creating recipes, writing articles, shooting photos, and a little bit of everything else. He was named one of the "10 Faces of Memphis Barbecue" by Memphis Magazine and was the winner of Travel Channel's "American Grilled: Memphis".

---