Take Taco Tuesday to new heights with this delicious twist featuring sous vide and grilled flank steak.
Flank steak is one of those pieces of protein that when cooked correctly, it is pure beef bliss. The problem is, if it isn't cooked correctly, it brings back horrible childhood memories of eating leather. Follow me on a new journey, a destination that combines the beautiful collaboration of precision cooking and smoke and fire for mouthwatering tacos featuring Asian-style sous vide flank steak that is then finished on the grill for an extra depth of flavor. You can read more about the sous-vide-que method here.
This is flank steak reimagined
Flank isn't actually steak since it comes from the cow's lower chest or abdominal muscle (which also contributes to its iron-like flavor). It's roughly a foot long and usually an inch thick. Your best bet is to cook it whole rather than divide it into smaller individual pieces. You may have also heard it referred to as jiffy steak, and London broil. It is easily identified by the visible direction of the meat's cross-grain.
Because flank steak doesn't contain much internal fat, it is much less forgiving than a well-marbled ribeye. This is where and why the precision of sous vide is your best friend in this recipe and technique; why chilling, smoking, and searing post-sous vide is your best friend's best friend; and why you always want them over for dinner for this next level Taco Tuesday.
Marinating
While it's true that marinade can only go so deep (1/16 to 1/8 of an inch), the loophole here is that because the steak is thin and it penetrates a higher percentage than a thick steak. There is also a large surface area for absorbing flavor and salt. There is also so much flavor in this that there is no need to season the flank before or after. Notice I am talking just about flavor. I make no claim that the marinade makes it more tender since it does not. But as an added bonus, this marinade can be made in batches and can be used for many other recipes. It is up to you and your meat religion whether you choose to marinate or not, but personally, I think it works for a flavor boost.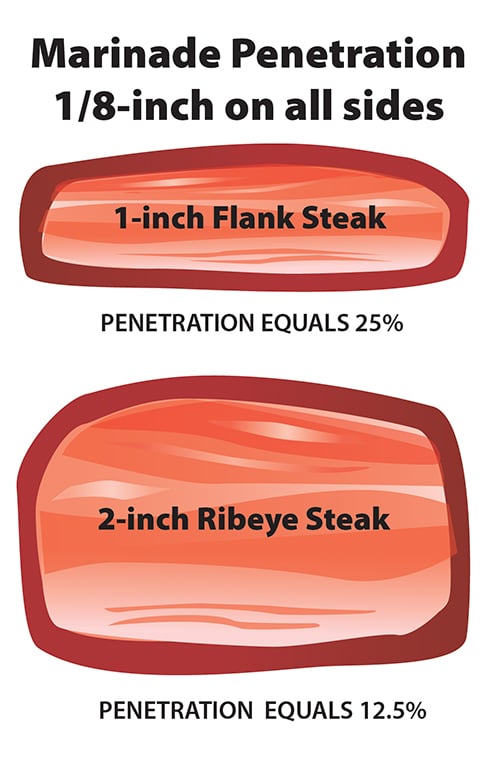 Chilling
When it is time for the flank to come out of the sous vide, it is submerged in a bath of 50% ice and 50% water for 45 minutes. During this time, the water temperature is checked with a digital thermometer periodically to ensure it is under 40°F. Then into the fridge until you are ready to finish it on the smoker or grill!
Spotlight on our favorite products
A Propane Smoker That Performs Under Pressure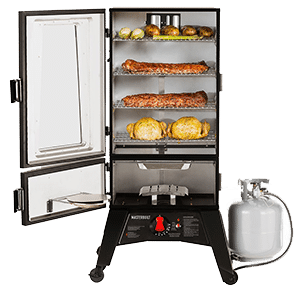 The Masterbuilt MPS 340/G ThermoTemp XL Propane Smoker is the first propane smoker with a thermostat, making this baby foolproof. All you need to do is add wood to the tray above the burner to start smokin'.
Click here to read our detailed review.
– THIS IS NOT AN AD –
I always smoke meat cold because it allows you to add smoke and color to the meat without worrying about overcooking it. Achieving a perfect medium-rare steak can be much more challenging if you put it on the smoker or grill without chilling the meat after a 131°F sous vide bath.
Finishing
To finish the flank steak, I do not dry it after it comes out of the refrigerator because smoke sticks better to wet protein. The flank steak is then placed over indirect heat on a smoker or grill set to 225°F until the internal temperature of the meat reaches 120°F.
Once the flank steak reaches 120°F, it is brushed with some of the remaining marinade and then seared over direct high heat until it reaches 125 to 130°F for a perfect medium-rare. It is then sliced across the grain for maximum tenderness.
The supporting actors
Build the tacos by spreading a little guacamole on each flour tortilla to act as glue for holding the meat in, top with sliced flank steak, and add chopped onion and cilantro. Hoisin sour cream, lime, and pickled jalapenos are served on the side to help pull it all together. If you are looking for a new spin on traditional tacos, I invite you to try this out!
Delight your tastebuds with a new spin on flank steak and kick up Taco Tuesday with Asian-style flank steak tacos.
Serve with: Your favorite IPA or Syrah.
---
---
Makes:
---
Takes:
Equipment
1 Sous vide immersion circulator

2 One gallon (3.8 L) resealable freezer bags
---
Ingredients
Notes:
No additional seasoning is required.  The marinade contains plenty of salt (even if using low-sodium soy sauce). There is plenty of kick from all the other spices – you can always add salt after plating if you think it needs it, but it's nearly impossible to take it away.
Metric conversion:
These recipes were created in US Customary measurements and the conversion to metric is being done by calculations. They should be accurate, but it is possible there could be an error. If you find one, please let us know in the comments at the bottom of the page
Method
Prep: Grate the garlic clove. Grate 1/2 teaspoon fresh ginger. Zest 1/2 lime.

Prepare the marinade by combining the garlic, ginger, lime zest, juice of 1/2 lime, hoisin sauce, reduced-sodium soy sauce, honey, sesame oil, liquid smoke, ground mustard, and Chinese five spice powder in a medium bowl. Add ground cayenne to taste. Stir to combine all ingredients. Set aside 1/4 cup of the marinade for the grilling stage.

Trim excess fat from the flank steak. Place flank steak in a resealable bag and add enough marinade to cover the flank steak. Seal the bag and refrigerate for 24 hours. Flip the bag periodically.

Once the flank steak is done marinating, transfer it to a vacuum-sealed bag or a BPA-free resealable bag. If using a resealable bag, carefully submerge the bag in the water bath until most of the air has been removed, and then seal the bag.

Sous vide. Prepare a sous vide immersion circulator according to instructions and set water temperature for 131°F (55°C).

Sous vide the flank steak for 2 hours. Since there is not much fat to break down, anything longer will not make it more tender, but you can go up to 4 hours if needed.

Chill. Remove the bag from the sous vide water bath and submerge the bag in a large container filled with a 50/50 mix of ice and water for at least 30 minutes to reduce the meat's core temperature. Check to ensure the water stays under 40°F with a digital thermometer, adding more ice if needed. Place the flank steak in the refrigerator until ready to grill. The steak can stay in the refrigerator for up to one week or up to a month in the freezer.

Fire up. Prepare a grill for 2-zone cooking. On a charcoal grill, place a chimney full of pre-heated charcoal briquets on one side of the grill's charcoal grate in order to create direct and indirect cooking zones. Adjust the grill vents to bring the temperature to about 225°F (107.2°C). Add 2 to 3 chunks of your favorite smoking wood to the charcoal for flavor. On a gas grill, adjust the temperature knobs so that one half of the grill is off and the other half is heated enough to maintain a temperature of approximately 225°F (107.2°C) on the indirect side. For a pellet cooker, simple set the temperature to 225°F (107.2°C).

Cook. Once the grill is ready, remove the flank steak from the bag, and without patting the meat dry, place it in the indirect zone on the main cooking grate as far from the heat source as possible. Set the lid on the grill with the fully opened top vent positioned directly above the flank steak in order to force the smoke over and around the meat.

Allow the flank steak to smoke until the internal temperature reaches 120°F, approximately 45 minutes.

When the flank steak has reached 120°F, brush both sides with the remaining 1/4 cup of Asian marinade. On a charcoal grill, remove the lid lid and open the vents to get it as hot as possible. For a gas grill or pellet cooker, turn the heat up as much as possible. Sear the steak over high heat, flipping it once to create a nice sear. Once the flank steak reaches an internal temperature of 129°F, remove it from the grill for a perfect medium-rare when sliced and served.

Prep again. Make the hoisin sour cream by combining the sour cream and hoisin sauce in a small bowl and gently blending.

Mince the onion and finely chop the cilantro. Cut the remaining lime into quarters.

Serve. Slice the flank steak against the grain. Build your taco by spreading a little guacamole (optional) on a flour tortilla, and topping with 2-3 slices of flank steak. Serve with hoisin sour cream, as well as the optional chopped onion, cilantro, lime wedges, and pickled jalapeno slices.
---