Clove and allspice take homemade roasted pecans over the top.
Do you say PEE-cahn or pee-CAWN? These nuts have a pretty floral scent and a hint of sweetness, but not too much. The best part is that they are roasted at home on the grill so they are head and shoulders above anything you can buy at the store.
Spotlight on our favorite products
A Propane Smoker That Performs Under Pressure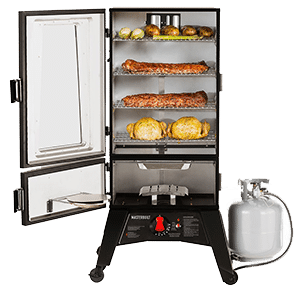 The Masterbuilt MPS 340/G ThermoTemp XL Propane Smoker is the first propane smoker with a thermostat, making this baby foolproof. All you need to do is add wood to the tray above the burner to start smokin'.
Click here to read our detailed review.
– THIS IS NOT AN AD –
Be sure to visit our "how-to" post on party nuts here to learn more about grill roasted nuts including the best tools for grilling the nuts, suggested ingredients for customizing this and other recipes and so much more!
---
---
Makes:
---
Takes:
---
Ingredients
1

pound

raw pecan halves

2

tablespoons

butter

2

teaspoons

Morton Coarse Kosher Salt

1

teaspoon

ground cinnamon

½

teaspoon

ground black pepper

¼

teaspoon

ground cloves

¼

teaspoon

ground allspice

2

tablespoons

sugar
Notes:
About the salt. Remember, Morton's coarse kosher salt is half the concentration of table salt so if you use table salt, use half as much. Click here to read more about salt and how it works.
Metric conversion:
These recipes were created in US Customary measurements and the conversion to metric is being done by calculations. They should be accurate, but it is possible there could be an error. If you find one, please let us know in the comments at the bottom of the page
Method
Fire up. Preheat your grill/smoker to 225°F (107.2°C) in the indirect zone.

Prep. Soak the nuts in water for about 10 minutes, then drain and pour onto a grill topper.

Cook. Smoke the nuts for about 30 minutes in the indirect zone.

When the nuts are nearly done, melt the butter in a frying pan over medium low heat. Add the salt, cinnamon, pepper, cloves, and allspice and stir for about 30 seconds. Add the smoked nuts and stir frequently for about 5 minutes. Dump into a bowl and stir in the sugar. Pour onto a pan and cool thoroughly.

Serve. Once cooled, serve the nuts or store in an airtight container.
---