Bold and savory, these grill roasted beer nuts are an instant hit.
A splash of Worcestershire, black pepper, garlic, cumin, and hot sauce make these homemade roasted nuts taste reminiscent of beef. Don't worry, you'll barely notice the spicy heat. Wash these down with your favorite beer.
Spotlight on our favorite products
The Cool Kettle With The Hinged Hood We Always Wanted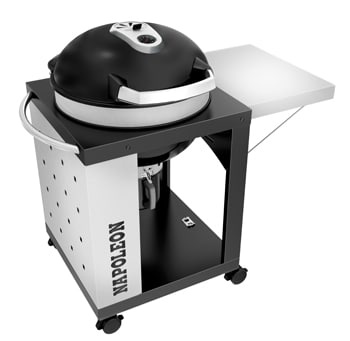 It's hard to beat a Weber kettle, but Napoleon holds its own and adds some unique features to make their 22″ Pro Cart a great alternative!
Click here for more about what makes this grill special.
– THIS IS NOT AN AD –
Be sure to visit our "how-to" post on party nuts here to learn more about grill roasted nuts, including the best tools for grilling the nuts, suggested ingredients for customizing this recipe, additional recipes, and so much more!
This savory nut mix is perfect for any party and blows away anything you can buy at the store.
---
---
Makes:
---
Takes:
---
Ingredients
1

tablespoon

Morton Coarse Kosher Salt

1 ½

teaspoons

ground cumin

1 ½

teaspoons

paprika

1 ½

teaspoons

garlic powder

1

teaspoon

finely ground black pepper

2

tablespoons

Worcestershire sauce

1

teaspoon

hot red pepper sauce

1

pound

raw pecan halves or almonds
Notes:
About the salt. Remember, Morton coarse kosher salt is half the concentration of table salt so if you use table salt, use half as much. Click here to read more about salt and how it works.
Metric conversion:
These recipes were created in US Customary measurements and the conversion to metric is being done by calculations. They should be accurate, but it is possible there could be an error. If you find one, please let us know in the comments at the bottom of the page
Method
Fire up. Preheat your grill/smoker to 225°F (107°C) in the indirect zone.

Prep. In a bowl, mix together the salt, cumin, paprika, garlic powder, and black pepper. Add the wet ingredients and stir. Add the nuts and coat.

Cook. Place on an oiled grill topper and smoke for 30 minutes, stirring and flipping after 15 minutes.

Cool. Take the nuts off the grill, spread them out in a pan and let them cool and harden thoroughly for about 2 hours.

Serve. Once cooled, serve the nuts immediately or store in an airtight container.
---