Pop one of these homemade smoked almonds and you won't stop.
Seasoned with AmazingRibs.com's famous Meathead's Memphis Dust recipe then roasted on the grill until kissed with just the right amount of smoke, these almonds are an amazing snack while watching the big game, relaxing poolside, or kicking off a backyard BBQ and grilling bash.
Spotlight on our favorite products
The Good-One Is A Superb Grill And A Superb Smoker All In One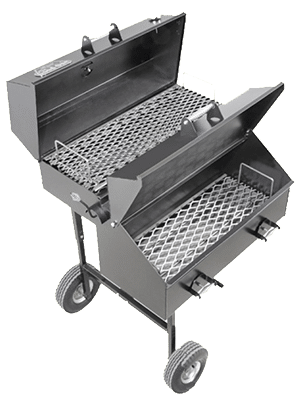 The Good-One Open Range is dramatically different from a traditional offset smoker, placing the heat source behind and under the smokebox instead of off to the side. Click here to read our complete review.
– THIS IS NOT AN AD –
Be sure to visit our "how-to" post on party nuts here to learn more about grill roasted nuts including the best tools for grilling the nuts, suggested ingredients for customizing this and other recipes and so much more!
Take smoked almonds and mix in a barbecue rub and you end up with a real treat perfect for munching with beer.
---
---
Makes:
---
Takes:
---
Notes:
About

 

the

 

salt

. Remember, kosher 

salt

 is half 

the

 concentration of table 

salt

 so if you use table 

salt

, use half as much. Click here to read more 

about

 

salt

 and how it works.
Metric conversion:
These recipes were created in US Customary measurements and the conversion to metric is being done by calculations. They should be accurate, but it is possible there could be an error. If you find one, please let us know in the comments at the bottom of the page
Method
Fire up. Preheat your grill/smoker to 225°F (107.2°C) in the indirect zone.

Prep. Soak the nuts in water for 10 minutes and then drain. Sprinkle with the spice mix and stir.

Cook. Place on an oiled grill topper and smoke for 30 minutes, stirring and flipping after 15 minutes. Take them off, spread the out in a pan and let them cool and harden thoroughly for about 2 hours.

Serve. Once cooled, serve the BBQ smoked almonds or store in an airtight container.
---