Each year, over 100 million people gather in front of their televisions to watch the biggest winner-take-all showdown in US sports — the Super Bowl. And on any other Sunday, tens of millions watch football from their couch.
Some are there to root on their favorite team; some to boo a long hated rival; and some to simply catch the amazing commercials. Regardless of why you are tuning in, it's the food that will really make game day special.
Over the past couple of NFL seasons, one of the hottest trends in Super Bowl spreads has been the food stadium, a.k.a. the Snackadium. Filled to the brim with a variety of tasty grab-and-go eats, these stadium shaped centerpieces are certain to make your viewing party the talk of the town.
Feeling industrious? You can build your own stadium structure similar to the monstrous model I created for Kingsford charcoal.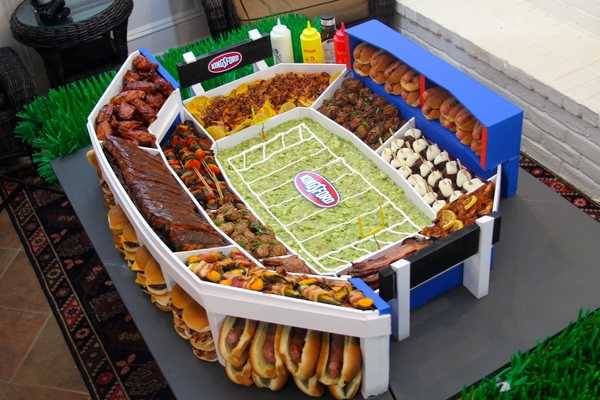 If, however, you don?t want to commit the time and resources necessary to cmake your own, there are several pre-fabricated stadiums on the market, including this one from Amazon.
What to cook for couchgating
With the structure in place, you only need to fill it with an array of your favorite grilled and smoked foods. We recommend food that doesn't need a knife and fork, and the best choices can be eaten with one hand so the other is free to hold the beer. To get you started on the ultimate game day menu, here are a few of our tried-and-true Super Bowl food stadium recipes. Don't forget plewnty of napkins.
Finger Foods
Sandwiches
Sides/Snacks/Appetizers
And no matter what John Madden says, no Turducken!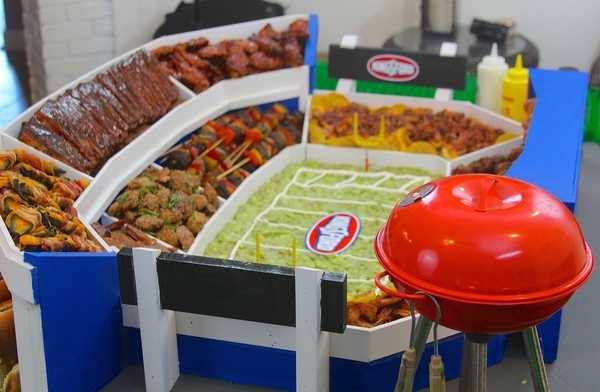 (Food stadium images courtesy of Kingsford.com)